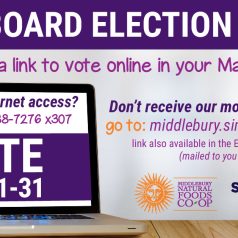 It's Board Election season here at the Co-op! Feeling confused about the election? Check out these answers to three of the most commonly asked questions:
I don't know a lot about the Co-op…should I still vote?
Yes! You don't need to have any prior experience or expertise to vote. If you've been inside the store, then you have the experience needed to vote.
We recommend you look for candidates who demonstrate a commitment to strategic leadership—leadership that supports the best interests of our Co-op as a whole.
Why should I vote?
It's very rare that you have the opportunity to make decisions about the leadership of a business, particularly one that plays such a significant role in our daily lives, such as a grocery store. When you vote, you have a direct impact on our community and local economy.
We literally own our co-op grocery store together, as member-owners. Big-name grocery stores are owned by shareholders that do not live in our community–profits from these stores are extracted from communities.
MNFC is different because we own the Co-op together–profits recirculate in our community, and all decisions are made locally by the Board of Directors and the Co-op Management Team.
Does my vote matter?
YES! Our elections are frequently very close races. Directors are often elected by a margin of only a few votes, and we occasionally have ties that result in run-off elections. Your vote really, truly matters!
Many thanks for your time! Please reach out if you have any questions.
In Cooperation,
Your MNFC Board of Directors,
(802) 388-7276 ext 377