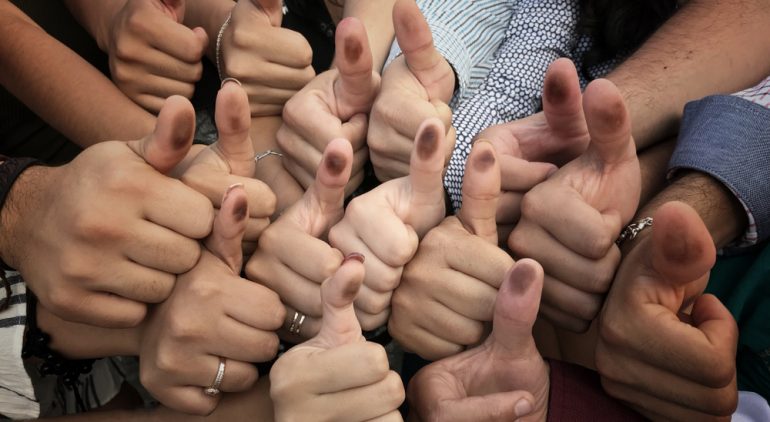 Elections, The Middlebury Co-op Way
National elections are here again and although they're always tense for one reason or another, this time they're especially fraught. The stakes are extra high; the rhetoric is super caustic, and the electorate is bitterly divided. So at a time like this, it's hopeful to recall that good, fair, democratic elections actually do exist: right here at our co-op.
Every year, the entire membership elects representatives to its board of directors who act on its behalf. The election cycle actually begins long before voting takes place in May. Starting in February, with the help of the co-op's marketing, education, and membership team, we begin to publicize the election and invite any member-owner who's curious to consider running for the board. Announcements are put on signs inside and outside of the store; placed in both the electronic and paper versions of our newsletters; bannered on our website; and posted to all of our social media channels. You don't need special skills or qualifications, we explain; you just need to want to serve your co-op.
To get a sense of what's involved, we say, download a copy of the new director application packet, or pick one up in the store. Call us, write us, send us an email. Sit and chat over coffee and Zoom. Drop into a meeting to get a firsthand look at your co-op's governance in action (they're held online these days, but that makes them even easier to attend in some ways. Just send us a note and we'll send you a link to the next meeting).
Our recruitment efforts don't end there, however. Both directors and staff reach out to anyone they think might be interested in running for the board: who knows anyone who might know someone else. We really shake the tree. By mid-March, everyone who wants to run, including incumbent directors, has submitted their application. These applications, by the way, are designed to convey a general sense of who applicants are to the membership and why they are interested in running. They are also designed to be straightforward and easy to complete. We don't want any barriers to entry in our process. Everyone, absolutely everyone, has a fair shot. (Each year, we review this application process and ask ourselves whether there is anything challenging in it, anything that's ambiguous, sends a mixed message, or could possibly come across as discriminatory or biased. If there is, we fix it or take it out.)
The application essays are posted on our website, as well as printed in our Annual Report. In April, while the reports are being printed, we continue to publicize the May elections in every way possible. We are always trying to make the elections more accessible to more of our member-owners. A perfect example was this past election when we switched to electronic voting. This took the form of links to a very simple voting page being sent to everyone via email. (Anyone without internet access could also stop by the store to vote.) The result was that we nearly doubled our turnout, which says a lot because we already had very high voter turnouts compared with other co-ops.
So in a time when many election processes are controversial, and surrounded by a noxious cloud of alternate facts, filter bubbles, and distrust, it's good to know that here, at least, we're doing it right. (In a future newsletter, I'll describe the board's officer election process, which may possibly set new standards among co-ops for fairness and transparency.) As always, write any time with suggestions, comments, or questions: tam@middlebury.coop.
Tam Stewart is the president of the Middlebury Natural Foods Co-op Board of Directors