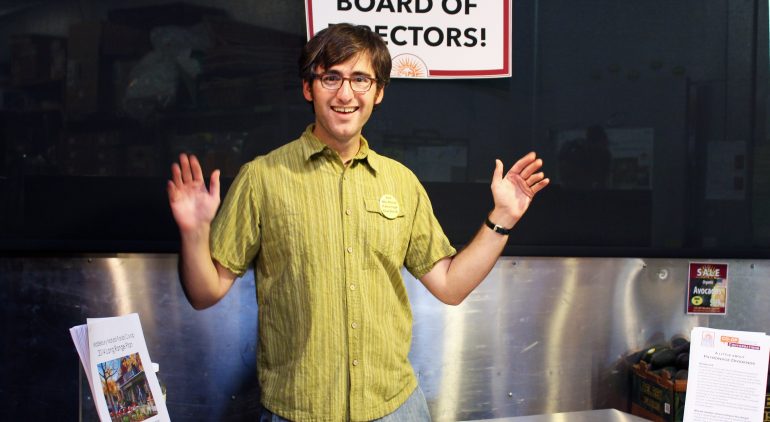 You Already Own Your Grocery Store…Now Run for the Board!
Want to learn more? You can talk directly with current Board Members at the Co-op this month. Stop by on Tuesday, 3/10, between 3 and 6 pm to meet Molly and find out what it's like to be a member of the Co-op's Board of Directors!
"I spent 13 years investigating every facet of the food supply," author Jon Steinman wrote recently in an article for Yes Magazine. "It led me to the conclusion that the grocery store is hands down the most influential force shaping food, the planet, and our health. The organic food industry, jump-started in congress by our Senator Patrick Leahy (Thank you, Senator!), has grown to more than $50 billion per year. In Addison County we are lucky to have so many local food options: Many of us shop at the farmers' market, have a garden, or go directly to a farm to buy meat and eggs or pick up a CSA.
Steinman poses an important question – if ten percent of our food dollars are spent locally, where does the other 90% go? In places where food is less abundant, no matter where you shop, you end up sending your dollars to a handful of multinational companies. They have gobbled up small and regional scale grocery chains: Hannaford, Food Lion, Giant, Stop & Shop, all are now subsidiaries of Ahold Delhaize from the Netherlands; Fred Meyer, Harris Teeter, Ralphs are now Kroger brands; Safeway, Shaw's, Star Market and Vons are owned by Albertsons. Even Fresh Market, Trader Joe's, and Whole Foods are all owned by large grocery conglomerates.
"OK, I get it," I can hear you thinking, "I already shop local, now I'm just subject to more of the shop-local-gospel coming from a board member." You're not entirely wrong, but beyond investing your dollars I want you to invest something more precious: Your time.
As member-owners we are all dedicated to local and organic foods, which is the backbone of the cooperative grocery movement. How and where we get our food is the underpinning of so many societal and economic inequalities. Our food dollars are vital, but so is taking time to serve on the Coop Board of Directors. Is there an issue that really fires you up? Climate Change? Wealth Inequality? Health? They are all tied to our food system, and as a board member, you have the opportunity to get involved in those decisions.
How? Run for the board. We lucky 11 members-owners as a board have the privilege of serving all of our member-owners and the broader community. It is incredibly fun and meaningful. We are seeking leaders with diverse perspectives and you can be one of them. Elections will be here sooner than you think, and we are accepting applications for candidates until March 15 (which is only 2.5 months away!). For more information about running for the board feel free to email Amanda at apawarren@gmail.com or board@middlebury.coop to learn more.
RJ Adler is a Middlebury Natural Foods Co-op Board Member