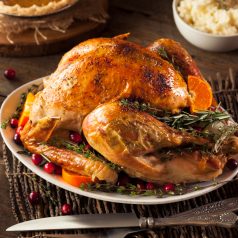 Thanksgiving is just around the corner and we've got everything you need for a delicious, stress-free holiday spread. Here's how to make it happen:
Turkey Pre-Order
Turkey pre-orders begin on November 1st. You'll find order sheets at the front end of the store at the customer service counter. You'll see one sign-up sheet for local turkeys from Stonewood Farm and another sheet for certified organic turkeys from Diestel Family Ranch. You can also give us a call and place your pre-order by phone. We will continue to take turkey orders through Sunday, November 18th. If you miss our pre-order deadline, it's still very likely that we'll be able to accommodate your needs, but pre-order is your best guarantee.
Prices
Stonewood – $3.19/lb (same as last year)
Diestel Organic – $4.69/lb
Sizes
Stonewood turkeys will range in size from around 14 lbs to over 30 lbs. When you place your order, you'll have the opportunity to specify what size turkey you'd like. We'll aim to get you a turkey within 3-5 lbs of your requested size.
Organic turkeys from Diestel Family Ranch will all be about the same size (around 14 lbs).
Wondering how much turkey to buy to accommodate your guest list? A handy rule of thumb is 1.5 pounds of turkey per guest. And note that it's always better to have too much than too little – especially during the holidays when leftovers are key to feeding out-of-town guests throughout the week.
All turkeys will be fresh (not previously frozen).
New! Side Dishes!
The Co-op Kitchen will be cooking up a mouth-watering array of side dishes for your holiday table. The same pre-order and pick-up schedules apply. We will have a limited supply of these items, so be sure to pre-order to guarantee that we'll have what you need. Your order may be placed by phone or in person at the customer service counter. If you miss the pre-order deadline, please check with any Deli staff member to see if your request can be accommodated.
Click HERE to see the full list of offerings.
Pick-Up
Turkey and side dish pick-up will begin on Monday, November 19th and end on Wednesday, November 21st. When you come to pick up your pre-ordered turkey and sides, please follow the signs the holiday pick-up station located in our meat department and a staff member will be waiting to assist you!

Questions? Give us a call at (802) 388-7276 or ask any staff member next time you're in the store!