Pan-Seared Butternut Squash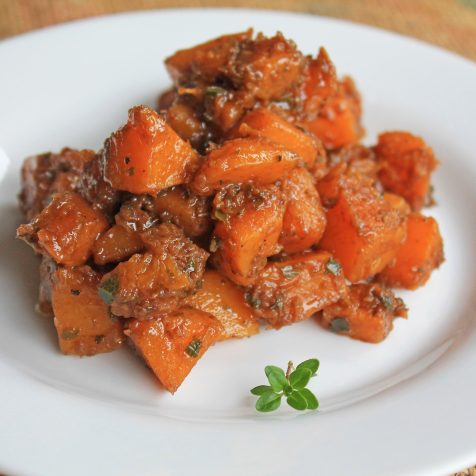 Description
Looking to shake up your Thanksgiving side-dish lineup? We think you'll love this colorful, flavorful pan-seared butternut squash! Sweet, tart, and savory components make for a complex flavor combination that's anything but boring. The inspiration for this one came from thekitchn.com and can be made in advance to save you some kitchen time on Thanksgiving day.
Instructions
Peel the butternut squash, cut it into vertical halves, scoop out the seeds and stringy pulp, then cube it into small pieces. Roughly chop the fresh herbs and set aside. Heat the sunflower oil in a large cast iron skillet or other large, heavy frying pan over high heat. When the oil is good and hot, add the fresh herbs and fry them for 30 seconds. This crystallizes the herbs, allowing them to keep their bright green color and a nice texture. Next, add the squash, toss to coat in the oil and herbs, then spread it into a single layer. Reduce heat to medium-high and cook for 5 minutes, stirring only once or twice. Reduce the heat to medium, add salt and pepper, and continue cooking for another 10 minutes, or until the squash is starting to brown and soften. Stir occasionally.
While the squash is cooking, mix the honey (or pomegranate molasses), pomegranate juice, balsamic vinegar, salt and pepper in a small bowl. While whisking the juice with the other sauce ingredients in your small bowl, slowly drizzle in the olive oil in a steady stream until well emulsified. Once the squash is tender, pour the sauce into the pan and use a spatula to scrape any browned bits from the bottom of the pan. After a minute or so, remove from heat. Serve right away or let it cool and pop it in the fridge to be reheated on Thanksgiving day. Serve with the fresh Parmesan shavings on top, if desired.