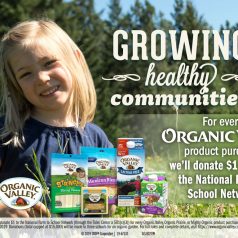 Organic Valley believes in the importance of educating youth about agriculture and farming practices. This back to school season, Organic Valley, your Co-op, and food co-ops across the country have teamed up with the National Farm to School Network. The Network is a non-profit organization working to bring local food sourcing, school gardens, and food and agriculture education into schools, early care centers, and other education settings. Our objective is to raise money for the Network and give away three school gardens nationwide!
Farm to school empowers children and their families to make informed food choices while strengthening the local economy and contributing to vibrant communities. National Farm to School Network provides vision, leadership, and support at the state, regional and national levels to connect and expand the farm to school movement, which has grown from a handful of schools in the late 1990s to approximately 42,000 schools in all 50 states as of 2014. The network includes Core Partner and Supporting Partner organizations in all 50 states, Washington, D.C., and U.S. Territories, thousands of farm to school supporters, national advisory board and staff. National Farm to School Network was launched in 2007 by a collaborative of more than 30 organizations seeking to shape the burgeoning farm to school movement. Initially led by staff from the Community Food Security Coalition and the Urban & Environmental Policy Institute at Occidental College. National Farm to School Network is now a project of the Tides Center.
From August 14 – September 3, Organic Valley will be donating $1 from every Organic Valley purchase at food co-ops (Up to $25,000). The Organic Valley purchases you make at your Co-op during this time frame will also help toward the opportunity for a local school to win a National Farm to School Network garden. Every purchase helps as we work to bring healthy, locally-grown foods to our community starting with childhood and beyond.
To learn more about National Farm to School Network, visit www.farmtoschool.org