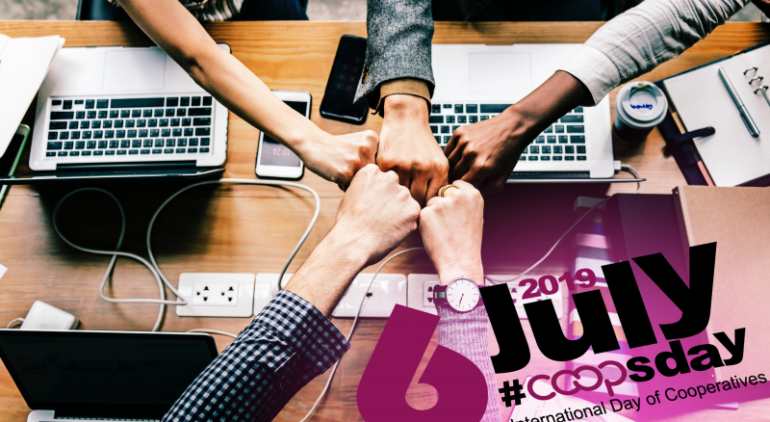 Celebrate International Day of Cooperatives!
The United Nations International Day of Cooperatives is celebrated annually on the first Saturday of July. The aim of this celebration is to increase awareness of cooperatives, the work we do in our communities, and the things that make our business model unique.
The theme of the International Day of Cooperatives for 2019 is COOPS 4 DECENT WORK. We are shouting out the message that cooperatives are people-centered enterprises characterized by democratic control that prioritize human development and social justice within the workplace.

Cooperative employment is far from a marginal phenomenon. According to a recent estimate, cooperatives around the world employ or are the main source of income for more than 279 million people—almost 10% of humanity's total working population!
Here's a look at the cooperative impact in New England:
Together, the Neighboring Food Co-op Association includes more than 35 food co-ops and start-ups that are

Locally owned by 150,000 people (up from 144,000 last year)
Provide more than 2,300 good local jobs (up from 2,000)
Generate $340 million in shared revenue (up from $330M)
and sell over $93 million in local products every year (up from $90M)
Beyond these numbers, different studies have confirmed that, by comparison with employment in other sectors, cooperative jobs…
tend to be more sustainable over time
show a smaller gap in earnings between higher and lower-paid positions, and
are more evenly distributed between rural and urban areas.
Co-operative businesses granted equal voting rights for women almost a century before most parliaments of the world did!
As businesses driven by values, not just profit, cooperatives share internationally agreed principles and act together to build a better world through cooperation. Putting fairness, equality and social justice at the heart of the enterprise, cooperatives around the world are allowing people to work together to create sustainable enterprises that generate long-term jobs and prosperity.
As people-centered enterprises, cooperatives have an important role to play in the creation of decent jobs and the social and economic empowerment of local communities. The second International Cooperative Principle, "Democratic member control," enables communities to own and govern cooperatives jointly through democratic control that brings about inclusive and sustainable growth, leaving no one behind.
As member-owned, member-run and member-serving businesses, cooperatives empower people to collectively realize their economic aspirations, while strengthening their social and human capital and developing their communities.
So on Saturday, July 6th join us as we celebrate a future in which human development and social justice are priorities! Through #CoopsDay, local, national and global policymakers, civil society organizations and the public, in general, can learn how cooperatives contribute to a decent working environment.
To learn more visit: www.coopsday.coop