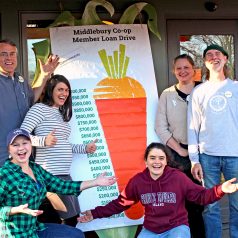 With the season of thankfulness upon us, we're feeling overwhelmed with gratitude to see our Co-op so well supported by its member-owners! Our Member Loan Drive has surpassed the $900,000 mark and inching ever closer to our million-dollar goal!! WOW!!
Our December 1st deadline is fast approaching, so if you've been considering a loan to the Co-op, now's the time! If you've already made a pledge, now's the time to mail in or drop off your paper work and check to get in on the action. Help bring us home for Thanksgiving!
Do you have questions about the Member Loan Drive? Please don't hesitate to reach out! We'd love to hear from you! You can stop by, call us at 388-7276, or email our Member Loan Drive Coordinator, John, at jbbarstow@gmail.com. You can also click here to view the brochure with basic information about this project.
Want to check out the latest expansion plans? Click here!
Thank you for your time and consideration. We hope you'll join us as we grow together!
Cooperatively AND Gratefully,
Glenn Lower, General Manager