Expansion Update – November 2017
After eight months, our expansion project will be wrapping up in November – just in time for the holiday season. With your help, we've accomplished a retail floor increase of 50%. You'll now notice wider store aisles; doubled space for meat, cheese, and deli; an expanded dairy department; an expanded produce department; doubled indoor café seating and customer bathroom space; two additional cash registers and a customer service desk!
Staff members are enjoying improvements in their work spaces, as well. Most notable of these is the beautiful, modern kitchen for our deli – complete with windows! We were also able to double the back room delivery/receiving space and add a new space for safely handling fresh meat. In keeping with our Ends, we improved our energy efficiency by creating a better building envelope and purchasing more efficient equipment.
In late November, we will complete one final detail which is a beautiful new surface on the retail floor. This work requires the Co-op to be closed for two consecutive days. The work will be done on Thanksgiving Thursday and Friday, November 23rd and 24th. Of course, it's not unusual for us to be closed on Thanksgiving Day, though this project will require us to close one additional day.
We have so many people to thank for helping us complete this project! There are too many to individually name, so I'll mention them in groups.  I'd like to extend a big thank you to our construction team of Naylor & Breen and all of their subcontractors for not only building us a beautiful addition within budget and on time but also for keeping the store open the entire time. It was super pleasant to work with you.
Next, I'd like to thank the team at Vermont Integrated Architecture in Middlebury for designing a complicated expansion and Renaissance Development of Vergennes for being my owner's representative at the table. Both teams helped me with the overwhelming details, budget, and construction challenges that always inevitably come up.
Thank you to the staff for working through all of the chaos, noise, and discomfort, as well as parking off-site for seven months. Thank you to our neighbors, both businesses and homeowners, for helping make a downtown development project go smoothly. We couldn't have done it without your cooperation.
And finally, I'd like to extend a huge thank you to member-owners for helping fund this project through your member loans and for shopping through the construction chaos. Your business during this challenging time was critical to our success and your verbal encouragement and appreciation to staff during these seven months was much appreciated. This is your store; you own it. Help us make it as great as it can be.
When a community works together, it's amazing what we can accomplish. Thank you all!
Glenn Lower
Here's a Look at the New Store Layout: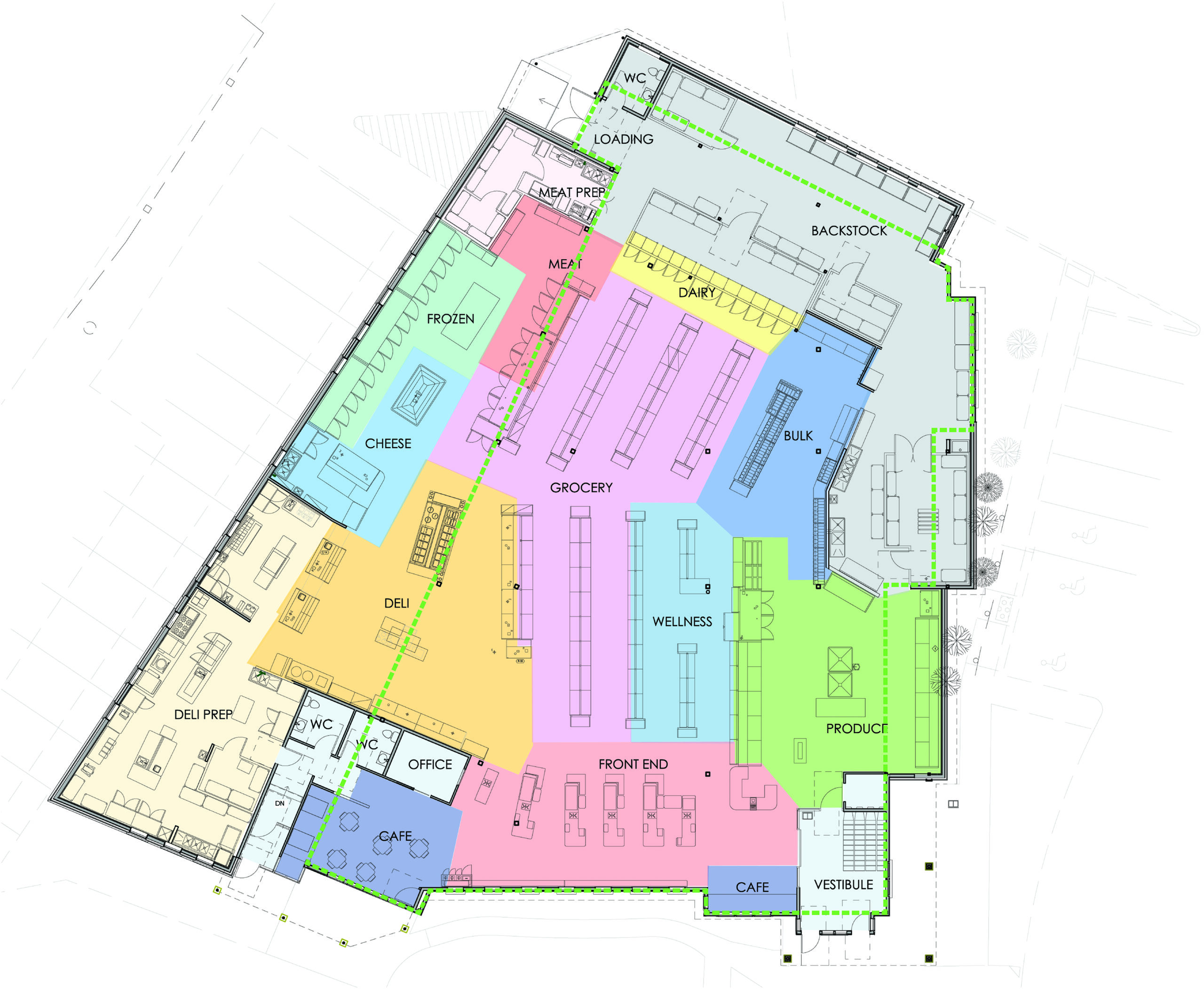 Note that the dotted green line represents the outline of the current store. The additional space will allow:
A better insulated, more energy-efficient building with 50% more retail space overall
20% more retail space in the Produce department and a more open layout for easier navigation
Improved store entrance with energy-saving air lock
100% increase in the bulk/grocery backstock area
Expanded selection in the Bulk department
100% increase in fresh meat retail space
100% increase in cheese retail space
Improved deli, with 75% more retail space, a hot bar, and more
Enlarged deli kitchen for more prepared foods and faster service
New Co-op Cafe with 100% more seating and a dedicated entrance
New customer service desk
Wider, longer, safer driveway in and out of the parking lot
The most important thing members/customers can do to support our expansion project is to keep shopping during the construction months.  Thank you!
Stay tuned for more details!!!