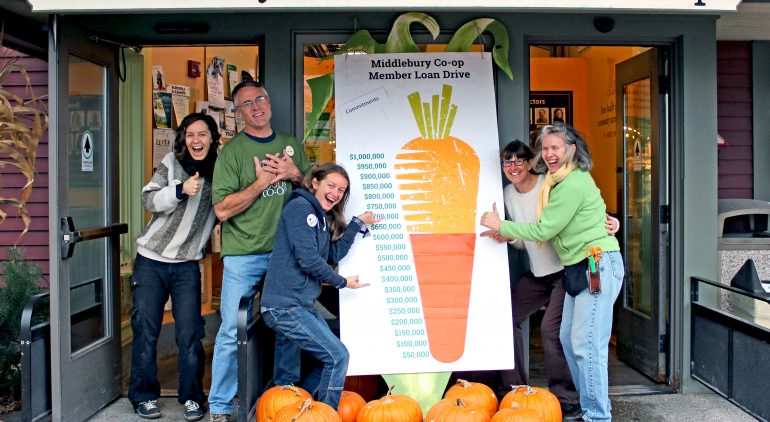 We're Two-Thirds of the Way There!
Our Member Loan Drive is underway and we're over two-thirds of the way to our goal! We are SO EXCITED and wish to extend our heartfelt gratitude to those who have invested in the future of our Co-op thus far. We truly are growing together!
The positive feedback from member-owners has been overwhelming and has served as a helpful reminder of why this project is so important. Here are some of the wonderful words of encouragement we've received:
"The Co-op is more than my source for healthy foods and products; it' my community. It has invested in our local economy, and I am delighted to invest in the co-op's next expansion."
—Abi Sessions, educator, grandmother, community volunteer
"MNFC is one of the most critical centers for wellness in our community. The growth and well-being of our families, friends and neighbors depends on all the goods—literally and figuratively—that our local Co-op provides."
—Jack Mayer, MD, MPH Rainbow Pediatrics
"The Co-op reflects our values…. Backing the expansion means enlarging our ability to create fair wage jobs, to support local farmers and food companies, and to provide healthy foods to a broader segment of our community. We're in!"
—Amy Sheldon, state representative & Ashar Nelson, architect
"We see loaning money to the Co-op for its expansion as an investment in community prosperity."
—Will & Judy Stevens, Golden Russet Farm, producers
"MNFC exemplifies environmental responsibility, but also community connectedness. It's one of the places that makes Addison County what it is!"
—Bill McKibben, environmental activist, author & Sue Halpern, author
If you haven't yet had a chance to check out the details of the proposed expansion and the Member Loan Drive, we invite you to click here and read all about it!
Interested in checking out the latest site plan from the architects? Click here!
Are you ready to invest in YOUR community Co-op?! Give us a call at 388-7276, or email our Member Loan Drive Coordinator, John Barstow, at jbbarstow@gmail.com. We're happy to answer any questions you might have and if you're ready to invest, we'll send a packet containing all of the information needed to complete the process. Our deadline is December 1st.
Thank you for your continued support. Whether it's helping to provide capital for our next evolution through the Member Loan Drive, or the support you offer every time you choose to shop here at the Co-op, we're extremely grateful! Stay tuned to the Big Carrot at the store entryway to track our progress!