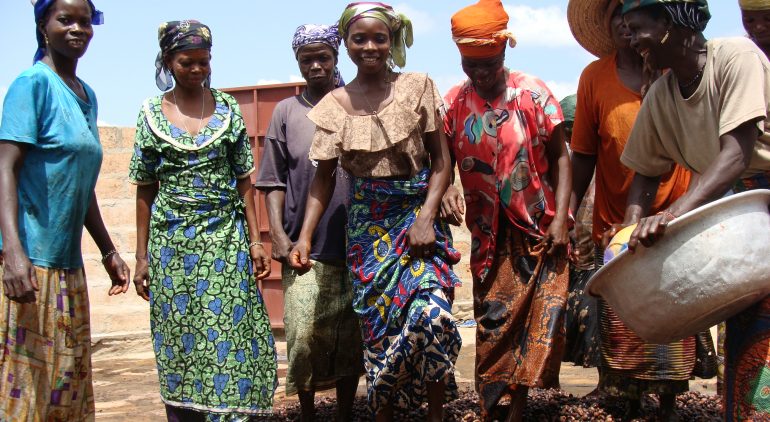 Alaffia joins the Co+op Basics lineup!
Do you know about Co+op Basics? Through this program, we're able to offer every day low prices on many popular grocery,  household, and body care items. From milk and bread to laundry soap and paper towels, you'll find brands you know and trust at prices you can afford. We're constantly working to expand the list of products featured in the Co+op Basics lineup, and we're feeling particularly excited about the recent addition of several Alaffia products!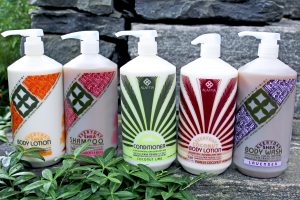 You will now find Alaffia's Everyday Shea body washes, body lotions, shampoos & conditioners, along with their Everyday Coconut line of body lotions, shampoos & conditioners sporting a new price tag –  $9.99 for a 32 oz bottle! Just look for the Co+op Basics signs: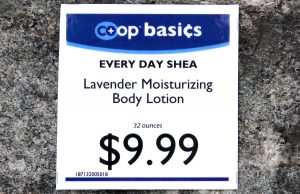 We're excited about this great low price, but what thrills us most is the opportunity to feature such an exceptional company in this program.
What's so great about Alaffia?

Alaffia was founded in 2004 to alleviate poverty and empower communities in West Africa through the fair trade of shea butter and other indigenous resources. Fair trade is the fundamental foundation of their organization, which is comprised of the Alaffia Village in Sokodé, Togo; the Alaffia Coconut Cooperative in Klouvi-Donnou, Togo; and the Alaffia headquarters in Olympia, Washington. Their cooperatives handcraft the indigenous raw ingredients, and the Alaffia team in Olympia creates the finished products.
Alaffia's success is not simply measured by profit. Their success is measured by empowerment. Empowerment Projects are Alaffia's mission in action, funded by the sales of Alaffia products, which are returned to the communities in Togo that are home to their cooperatives. Alaffia invests in these communities because they feel a moral responsibility and want to ensure that African resources are empowering African communities. The goal is to alleviate poverty and encourage gender equality. Their Empowerment Projects include several Education-Based Projects, Maternal Health, FGM (female genital mutilation) Eradication, Eyeglass Accessibility, and Reforestation. All of Alaffia's projects empower Togolese communities to provide their skills and knowledge to the rest of the world and rise out of poverty. In short, when you buy Alaffia projects, you make a difference. Read on to learn about the incredible impacts Alaffia's initiatives are having in these communities :

Maternal Health & Equality –
Each year in West Africa, 160,000 women die due to complications resulting from pregnancy and childbirth.  This figure is significantly higher than the mortality rate for childbearing women in European countries. Alaffia launched a Maternal Health Project, which follows the World Health Organization's recommendations for reducing maternal mortality rates both directly, through pre- and post-delivery care, and indirectly, through the Alaffia Women's Clinic project, which provides training & information on topics ranging from nutrition to genital mutilation practices.  To date, there have been 4,142 births funded through their programs. To read more about these projects, click here.

School Projects – 
The future of African communities depends on the education and empowerment of young people. Since 2003, Alaffia has provided school uniforms, books, and writing supplies to children in Togolese communities to offset the financial burden these items have on poor families. They also donate desks and install new roofs on schools to make learning a more enjoyable experience. Since 2011, Alaffia product sales have funded the construction of ten schools throughout Togo and provided school supplies to 23,700 recipients. They now partner with retail stores to collect school supplies – if you would like to help collect pens and pencils for this project, please contact Alaffia's office at 1-800-664-8005.
Bicycles for Education – 
In rural areas of Togo, students walk up to 10 miles a day to attend school. There are no buses, and families cannot afford private transportation. As a result, school becomes very time-consuming, and most students decide to quit school in order to fulfill their family obligations. In rural areas, less than 10% of high school-aged girls and only 16% of boys attend school (UNICEF). In 2004, Alaffia began collecting and sending used bicycles to Togolese students to encourage them to stay in and complete school. Now, with over 7,100 bicycles sent and distributed, they are seeing a real impact on exam scores and retention in rural schools. 95% of Bicycles For Education recipients graduate secondary school.

Reforestation Projects – 
Deforestation and climate change have had a devastating impact on West African farming communities. Alaffia product sales have funded the planting of 53,125 trees by Togolese farmers to help mitigate erosion and improve food security for their families. They also conduct trainings to discourage the cutting of shea trees for firewood and charcoal to preserve this important indigenous resource for future generations. Through their Alternative Fuels Project, they investigate sustainable fuel alternatives, such as bio-gas and bio-oils, to reduce the demand for wood and charcoal.

FGM Eradication Project – 
As part of their Maternal Health Initiatives, Alaffia aims to educate women about the dangers of Female Genital Mutilation (FGM), or excision. FGM includes procedures that intentionally alter or cause injury to the female genital organs for non-medical reasons and is recognized internationally as a violation of the human rights of girls and women. The procedure can result in severe bleeding, infections, life-threatening complications in childbirth, and increased risk of newborn deaths. (World Health Organization). Abidé Awesso, Alaffia's Maternal Health & FGM Eradication Coordinator in the Bassar region of Togo, has been working on this initiative with Alaffia since 2012. Hodalo Katakouna was one of Abidé's first patients and one of the first women to be supported as part of our Maternal Health and FGM Eradication project. Click here to read her story.

Eyeglass Project – 
In Togo, it is extremely difficult for visually impaired people to obtain eyeglasses. An eye exam costs as much as one month's wage and a pair of eyeglasses can cost up to four months of wages. Alaffia collects used eyeglasses at retailer locations throughout the US and employs an optometrist in Togo to correctly fit and distribute the glasses. A pair of eyeglasses is life-changing for a child struggling in school, the elderly with failing vision, and adults who have never been able to see clearly. To date, Alaffia has collected and distributed over 14,200 pairs of glasses.