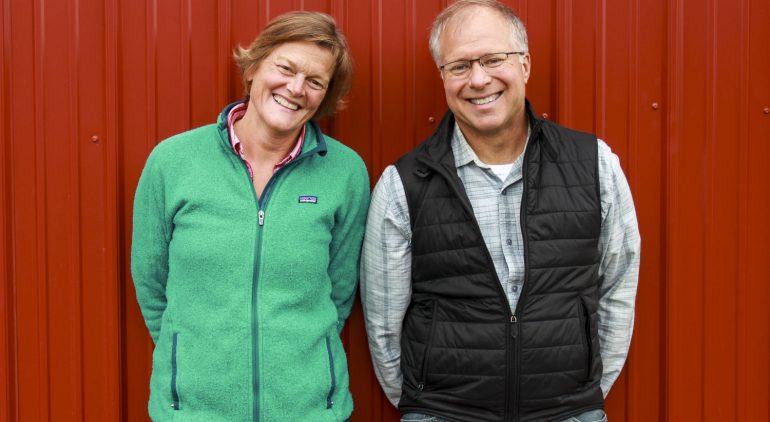 Spotlight on Vermont Creamery
With National Dairy Month in mind, we're casting our Co-op Spotlight on Vermont Creamery and reminding member-owners that they can enjoy 20% off their decadent dairy products this week. We're incredibly lucky to live in a state with the highest number of artisanal cheese makers per capita, and Vermont Creamery ranks high among them. Their cheeses, creme fraiche, mascarpone, and cultured butter have garnered awards locally, nationally, and globally, creating quite a reputation for this incredible creamery with such humble roots. Read on to learn more about how the creamery began, their model for for being a sustainable mission-driven business, and what keeps them inspired to produce their world-renowned products: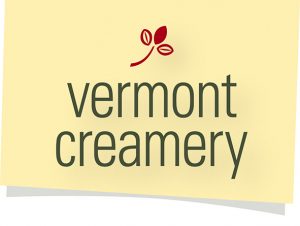 Our Story:
Vermont Creamery was started by two young visionaries devoted to new and non-traditional agriculture, Allison Hooper and Bob Reese. As a college student, Allison spent a summer traveling in France. She worked on a small family farm in Brittany, earning room and board while learning how to make all of the essentials of what was to become her life passion: cheesemaking. Bob always thought he would one day take over his grandparents' dairy farm. Unfortunately by the time he finished his degree in Agriculture, they'd sold the farm. Appropriately enough, the improbable run as long term business partners began in 1984 during a dinner celebrating Vermont agricultural products. Bob was in charge of the dinner and desperately needed a locally made goat cheese for the French chef's signature lamb dish. He reached out to Allison, who was then working at a dairy lab and milking goats in Brookfield. Allison made the chèvre on the farm, Bob delivered it to the chef– the dinner was a success and Vermont Creamery was born.
As they say, "time flies when you're having fun". And what a fun wild ride we've had. A quarter century ago, $2,000 of savings, and a $4,000 loan from an ag-minded Vermont church made possible our first nervous debut of fresh chèvre in the milk house on the farm in Brookfield. We sold first at farmers' markets, then to food co-ops and French chefs. Back then, fresh chèvre, so popular today, was a dazzling exotic foreign delicacy for American palates. Today, almost 30 years later, 20 Vermont goat farms ship their milk to Vermont Creamery. We are humbled and proud to have won more than 100 national and international awards. Our butters and cheeses populate some of the most prestigious cheese boards in America. But what makes us proudest perhaps is that we have sustained a team of family farms and creamery artisans. Together we thrive making simply great cheese for discerning, appreciative eaters, home cooks and discriminating chefs alike.
Our Mission:
At Vermont Creamery, we strive to produce the highest quality cheeses and dairy products using local ingredients while supporting and developing family farms. We aim to exemplify sustainability by being profitable, engaging our staff in the business, and living our mission every day in the creamery.
Our mission is founded on five principles:
The farms: Improve our rural communities by supporting family farms which have best management practices that are sustainable and environmentally sound.
A culture of continuous improvement: Invigorate and challenge our creamery community to maintain the highest product quality, excel at customer service and care for our consumers by inviting them to be part of our family.
The value of cheese: Promotes a life of good health and meaningful connection through the preparation and sharing of good food with others.
A responsible manufacturer: Add value to milk while minimizing our impact on clean and plentiful water, clean air, and land.
The Team: Accountability and responsibility allows every team member to create a profitable, meaningful and fun workplace where he/she is challenged empowered and motivated by his/her contribution.
A workplace that thinks globally and acts locally: Fostering mutual respect and tolerance in pursuit of a better life for everyone resonates within the creamery, into the community, and beyond
Our Culture:
In 2014, Vermont Creamery became B Corp certified. B Corps are a new type of company that use the power of business to solve social and environmental problems. B Corp certification is to sustainable business what Fair Trade certification is to coffee or USDA Organic certification is to milk. This designation reflects the values upon which our company was founded and our operating philosophies today. We became B Corp because capitalism affects change when it is mindful of doing what is right at the expense of profits. The B Corp Impact Assessment reflects not only what we currently do, but applies rigor to and accountability for our mission.
Our Recipe for Making a Difference-
100% of our company utilizes open book management
100% of Creamery employees participate in profit sharing
100% of our milk comes from small-scale suppliers/farms
Our conservation partnership with the Ayers Brook Goat Dairy trains future Vermont farmers
1% of profits are given to support non-profit and community work
Cut water consumption by 1/3 even as our business grew
50% of the management team are women
5 days paid maternity and paternity leave per year
Carpooling and bike-to-work incentive programs
More than 70% of heath insurance premium cost covered by the company
Meet the Goats: