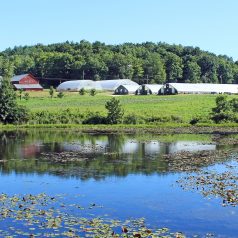 There are certain fruits and vegetables that seem to announce the changing of the seasons, and for us here at the Co-op, the day we received our first delivery of local, organic tomatoes and strawberries from Wood's Market Garden, we knew that summer was finally here! We're casting our Co-op Spotlight on Wood's Market Garden this week to highlight their magnificent 150-acre organic farm in Brandon, VT. Member-owners can enjoy 20% off all of their glorious local, organic fruits and veggies this week, including heirloom tomatoes, succulent strawberries, cherry tomatoes, cucumbers (the first of the season!), shell peas, sugar snap peas, broccoli, and cauliflower! Oh, and don't forget the offerings from the bulk department – dried organic black beans and pinto beans! Read on to learn more about the family that makes it possible for us to offer such a beautiful bounty: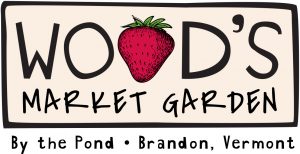 Wood's Market Garden is a fruit, vegetable & flower farm and seasonal market nestled in the quaint town of Brandon, Vermont. Our fields have been producing fresh food for the greater Brandon community for over 100 years. Jon Satz purchased the farm 16 years ago from Bob and Sally Wood. With his passion for growing and sustainable farming practices, the farm and market have blossomed into a destination for beautiful organic vegetables, quality bedding plants and some of the sweetest strawberries around! Jon, his wife Courtney, and their 2 young sons make their home on the farm and enjoy the continued legacy of farming the land that the Wood family started generations ago.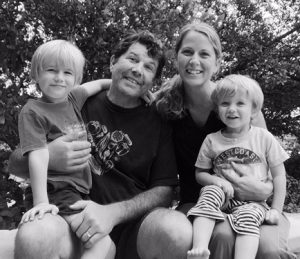 The farm consists of 150 acres of Vermont farmland and woods. Known far and wide for our delicious sweet corn and plump, sweet strawberries, we also grow over 50 kinds of vegetables and fruits on 60 acres of sandy loam soils. Our produce and vegetable plants are certified organic, and along with our field production, we also have 7 greenhouses for raising bedding plants, ornamentals, vegetable starts and the tastiest early tomatoes in the state! Our unique varieties of plants and our passion for quality crops keeps people coming back year after year.
We grow all of our produce organically here on the farm. It's a labor of love for everyone involved from seeding to harvesting to washing and selling. We're really proud to be able to provide such a bounty of farm fresh, organic fruits and vegetables to our community year after year. It's what feeds our own families here on the farm and beyond and you should feel good knowing we grow it all with love, care and a commitment to good organic practices.
Aside from growing an abundant array of fruits and vegetables for retailers like the Middlebury Co-op, we also offer a CSA and have a seasonal farm stand open daily in the summer from 9 am – 6 pm. Outside, it's a paradise of plants, hanging baskets, creeping vines, and gardens to wander. We're on the banks of Jones Mill Pond on Route 7, which during the warm summer months is covered with those famous pink water lilies. Inside the market, the shelves and baskets are filled with gorgeous fresh produce from our farm and bouquets of fresh-cut flowers. Depending on what's in season, you'll find everything from fresh spinach to strawberries to squash. We grow over 50 different kinds of produce on our farm, just yards from the farm stand. In addition to produce, we have an unbelievable variety of artisanal cheese, organic milk, and other local dairy products, local meat and poultry, fresh baked goods, maple syrup, raw honey, homemade pickles, jam and more!  If you're looking to stock your own garden, you can browse our selection of farm-grown organic veggie and herb starts, and a stunning variety of annuals, and perennials! We hope you'll stop in and see us on your next trip through Brandon.