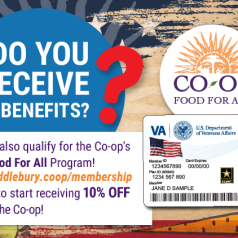 November 11th is Veterans' Day, so it feels timely to send out a reminder to all who are recipients of Veterans Affairs Benefits. Possession of a valid VA Card is proof of eligibility for the Co-op's Food For All Program. Food For All members enjoy a 10% discount on their groceries, co-op-sponsored member share purchases, and all the benefits of Co-op member ownership. Next time you are in the Co-op, stop by and pick up a Food For All Brochure and find out what Food for All can do for you. Or, find out more HERE.
For many of us, choosing to buy healthy food is not just about preference but price. At the Co-op, there are many ways to shop affordably to bring home products you trust – check out Co-op Basics, and Co-op Deals, and shop our Bulk Department. But if purchasing healthy foods is still a challenge for your budget, Food For All is here to help.
Who is eligible for Food For All?
Food For All is a Member Assistance Program for participants in SNAP, WIC, and Home Heating Assistance, and for clients of CVOEO, HOPE, WomenSafe, and the Open Door Clinic. Currently, around 375 Households participate in this program. We are always hoping to grow this number!
What do you "get" from Food For All?
You get a 10% Discount on all purchases, every day (excludes alcohol, by law).
You become a Member-Owner of the Co-op – your $20 share is paid by MNFC, allowing you to build equity, accrue a patronage dividend, receive Member Deals, and have a voice in Co-op Elections.
You become eligible for free classes through our Sustainability Series with Hannaford Career Center.
All Food for All member benefits are shared with the people in your household (children, domestic partners, parents living with you, etc..)
How do you sign up?
Fill out an application online, or pick one up at the Co-op Customer Service Desk.
Show us your current EBT or WIC benefits card, your Home Heating Assistance statement, or your VA Benefits Card (we'll make a copy when you come in).
OR
Bring us a letter of eligibility from one of our partner organizations (CVOEO, HOPE, WomenSafe, Open Door Clinic, and Free and Reduced Lunch Programs). They'll know what to do!
If you are not eligible for Food For All but know someone who might be, please spread the word. This Co-op belongs to its member-owners and its community…the WHOLE community. Help us serve you better.