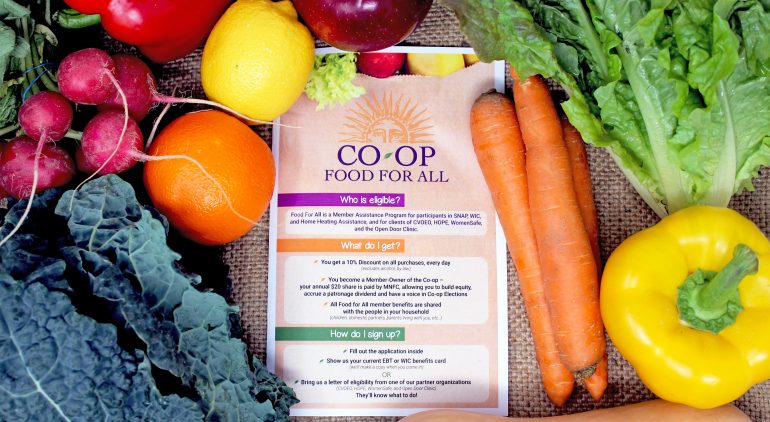 Think You Can't Afford to Shop at the Co-op? Find Out What Food For All Can Do for YOU.
Next time you're waiting in the check-out line at the Co-op, let your eyes roam to the stretch of pale yellow wall above the street-facing windows. You may never have noticed the statement posted there: The Middlebury Natural Foods Co-op is dedicated to the health and well-being of the whole community, but it's a statement that we return to continually, to help guide the decisions we make about how the Co-op grows.
For many of us, choosing to buy healthy food is not just about preference but price. At the Co-op, there are many ways to shop affordably to bring home products you trust – check out Co-op Basics, Co-op Deals, shop our Bulk Department, and use our Special Order system to get case discounts. But if purchasing healthy foods is still a challenge for your budget, Food For All is here to help.
Who is eligible for Food For All?
Food For All is a Member Assistance Program for participants in SNAP, WIC, and Home Heating Assistance, and for clients of CVOEO, HOPE, WomenSafe, and the Open Door Clinic. Currently, around 260 Households take advantage of this program. We are always hoping to grow this number!
What do you "get" from Food For All?
You get a 10% Discount on all purchases, every day (excludes alcohol, by law)
You become a Member-Owner of the Co-op – your $20 share is paid by MNFC, allowing you to build equity, accrue a patronage dividend and have a voice in Co-op Elections
All Food for All member benefits are shared with the people in your household (children, domestic partners, parents living with you, etc..)
How do you sign up?
Fill out an application online, or pick one up at the Co-op Customer Service Desk.
Show us your current EBT or WIC benefits card, your Home Heating Assistance statement, or your VA Benefits Card (we'll make a copy when you come in).
OR
Bring us a letter of eligibility from one of our partner organizations (CVOEO, HOPE, WomenSafe, Open Door Clinic, and Free and Reduced Lunch Programs). They'll know what to do!
If you are not eligible for Food For All but know someone who might be, please spread the word. This Co-op belongs to its member-owners and its community…the WHOLE community. Help us serve you better.