Watermelon Feta Appetizers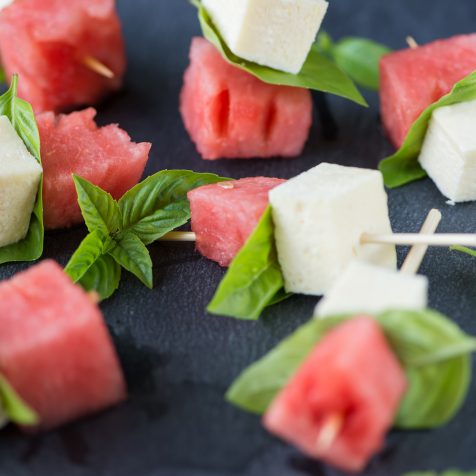 Description
Sweet, juicy watermelon, tangy balsamic sauce, and savory feta are delightful in this simple, elegant appetizer.
Instructions
Whisk together the olive oil, balsamic vinegar, raspberry preserves, onion powder, pepper, and salt in a small bowl until sauce becomes smooth. In a small saucepan, heat the sauce over medium heat until bubbling. Reduce the heat to low and cook, stirring regularly, until the sauce is reduced by half and becomes syrupy, about 10-15 minutes.  Remove from heat and let cool.
Using toothpicks or appetizer skewers, stack a piece of feta between two pieces of watermelon on each toothpick. Place each stack neatly on a platter, and sprinkle with basil. Drizzle the raspberry balsamic sauce over the watermelon-feta stacks before serving.