Barbecued Tofu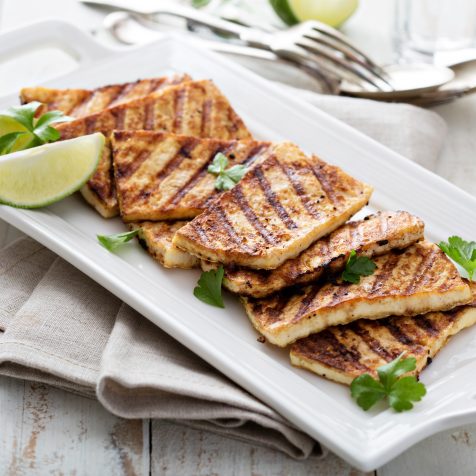 Description
Barbecued tofu may sound like an oxymoron, but this recipe proves that grilling is not just for carnivores. Cube it and toss with grilled veggies and rice, or serve it on a bun with a bit of coleslaw and a few pickles. Either way, it will be so good that even the most devout tofu-haters will want to come to your next barbecue!
Instructions
Cut the block of tofu crosswise into slices about 1/3-inch thick. Place them on a clean kitchen towel and wrap the towel around it several times. Allow it to rest for 30 minutes. Combine all ingredients for the marinade and allow the tofu to marinate for at least 30 minutes, or up to 2 hours. Remove tofu from the marinade and shake off any excess.  Preheat your gas or charcoal grill, clean the grill grate well with a wire brush, then oil the grill grate using an oil-soaked paper towel and long tongs. Allow the oil to smoke off for 40 seconds, or so, then repeat a few times to build up a good layer.
if you want tofu that's really crisp with concentrated flavor all over its surface, then low, indirect heat is where you want to be. By placing the tofu over a cooler side of the grill and covering it, you create an oven effect which slowly dries the exterior of each slice, making it much easier to brown and crisp. That means that in a gas grill, as soon as the tofu hits the grates, turn the burners directly under it to low heat and close the lid. With a coal grill, arrange the coals so that they are underneath just half of the cooking grate. Return the cooking grate, and place the tofu slabs over the cooler side of the grill and cover it. Cook for 10 minutes, flip, then cook for an additional 10 minutes.
Brush on a little bit of additional marinade before serving. Serve with grilled veggies over rice, or on a bun with coleslaw and a few pickles.