Grilled Veggies with Smoked Paprika Vinaigrette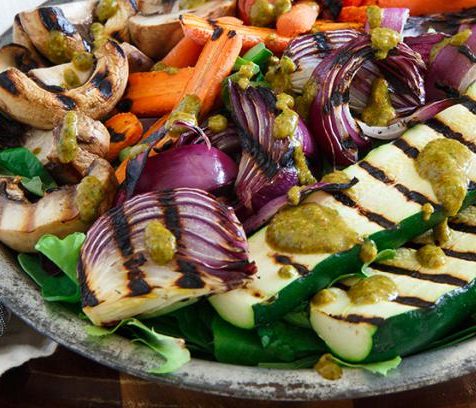 Description
While most people associate outdoor grilling with burgers, hot dogs, and steaks, the grill imparts big flavors to fruits & veggies, too!  A grilled vegetable salad is a colorful accompaniment for grilled pork, chicken or burgers. For a vegetarian main dish, scoop warm quinoa pilaf onto the salad greens, and arrange the grilled veggies on top. When grilling, remember to use moderate heat (not high); if it's a charcoal grill, move the charcoal to one side and grill your fruits and veggies on the other side, over indirect heat. Also be sure to oil your grill thoroughly—fruits and vegetables are high in natural sugars, which means they can easily burn and stick to the grill. Before you begin cooking, clean the grill well, preheat it, and then use several layers of paper towel dipped in vegetable oil to grease it. This will ensure your veggies are perfectly crisped outside, tender and juicy inside, and nothing left stuck to your grill!
Instructions
Place the first 8 ingredients for the vinaigrette in a blender or food processor. Blend until emulsified and set aside.
Heat the grill over medium-high heat. Drizzle all the vegetables with the sunflower oil. Place the carrots on the grill, turning every 4 to 5 minutes, until you can pierce them with a fork (15 to 20 minutes total). Make a foil packet for the mushrooms and tomatoes and place on the grill, or use a grilling basket to cook for 6 to 8 minutes, until cooked through. Next, grill the onion and zucchini until tender, approximately 3 to 5 minutes per side. Arrange salad greens on a serving platter, place grilled vegetables atop the greens and drizzle with the vinaigrette to taste. Leftover dressing will keep refrigerated for a week or more.