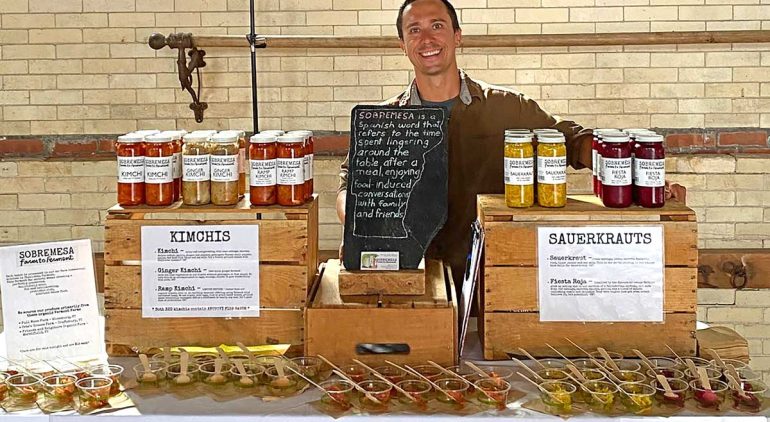 Nov. 16th
5:30pm – 7:30pm
Hannaford Career Center
51 Charles Ave., Middlebury, VT 05753
In the context of food preservation, fermentation is the transformation of food by various bacteria, fungi, and the enzymes they produce in an effort to preserve them. Our ability to ferment foods as a means of preservation dates back to the dawn of recorded history. It is a process that is inextricably linked to our culture as human beings and is, in large part, responsible for our survival as human beings, as it allowed our earliest ancestors to preserve and store food to get through long winters and periods of famine. It also renders our food more nutritious, more flavorful, and easier to digest, delivering a healthy dose of living probiotic bacteria to our microbiome. Join Jason Elberson of Sobremesa at Wool Folk Homestead in this hands-on workshop where you'll learn the basics of veggie fermentation and leave equipped to give this a try at home!
Jason Elberson, along with his partner Caitlin, are the founders of Sobremesa Farm to Ferment. They reside at Wool Folk Homestead in Charlotte, VT, where they practice regenerative agriculture, raising a diverse polyculture of perennial and annual veggies, fruits, and herbs, along with rotationally-grazed Icelandic sheep and laying hens. They began Sobremesa with the desire to provide their community with nourishing food and to encourage people to slow down for mealtimes and connect and converse after sharing a meal. "Sobremesa" is a Spanish word that describes the time after a meal spent lingering around the table, having food-induced conversations with people with whom you shared the meal. Sobremesa is a time to digest and savor food, family, and friendship. These connections are the heart of their vision: to provide their community with local food, including traditionally preserved foods, year-round.
Advance registration is required. Please register at least one week in advance. Classes are capped at 12 participants. Enrollment is first-come, first-served. All classes are $30, or FREE for members of the Co-op's Food For All Program. To register, email Denise at the Hannaford Career Center (dsenesac@pahcc.org) or call (802) 382-1004.