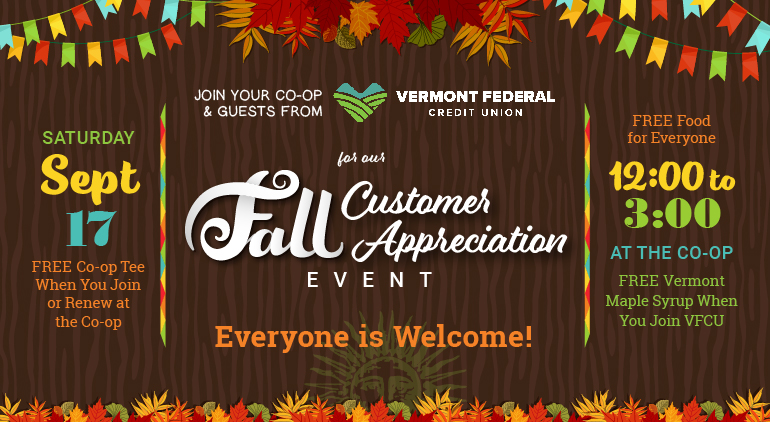 Sep. 17th
12:00pm – 3:00pm
Middlebury Food Co-op
9 Washington St., Middlebury, VT 05753
We are so grateful to our Co-op Community for all that you do to support us. It's time we showed you a little appreciation! Stop by the Co-op on Saturday, September 17, from 12 pm to 3 pm to feel the love! We'll be halfway through our Eat Local Challenge and ready to celebrate LOCAL! Start your visit at the Co-op Plaza and:
Grab a Local Burger Slider – local beef (Boyden Farm), local buns (Klinger's Bakery), and even local ketchup (Baird Farm) will be featured in juicy burgers fresh-grilled by our Co-op Staff. Wash it down with local apple cider and apples from Champlain Orchards.
Meet Guests from local, cooperatively-owned Vermont Federal Credit Union – Sign up to become a VFCU Member and you'll receive a free jug of local maple syrup!
Then, reap the benefits of Middlebury Natural Foods Co-op member-ownership and get a FREE Co-op T-Shirt and 8 oz local maple syrup (syrup courtesy of VFCU, just for supporting your Co-op!) when you:
Become a Co-op Member-Owner
Renew your Membership (12 months will be added to any renewed membership, so nothing is lost by renewing early)
Donate a Member Share to our Food For All program
Membership is just $20 per share and is always fully refundable!
See YOU there on Saturday, September 17th, 12-3 at the Co-op (rain or shine)!