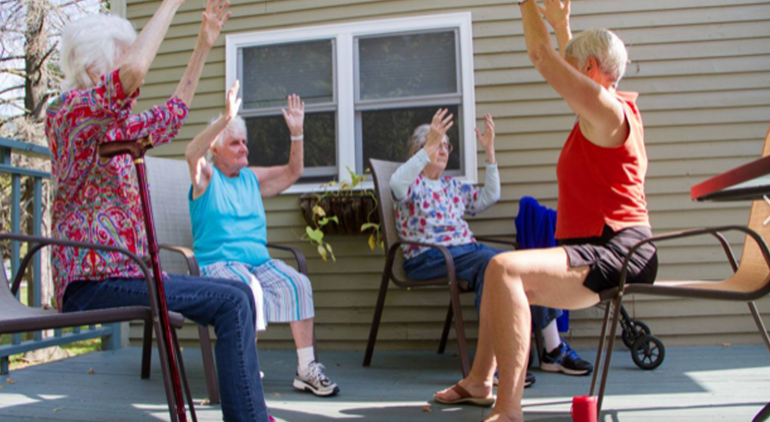 Middlebury Natural Foods Co-op
9 Washington St., Middlebury, VT 05753

Round up your totals at the registers August 8-14. The Co-op will match your donation and pass it along to Living Well Residence of Addison County. Read on to learn more about this organization is bringing quality eldercare to our community.
Living Well Residence is a 15-bed holistic, residential eldercare facility located in Bristol, with a focus on engagement, holistic health, and a wide range of community connections. Bristol residents are accustomed to seeing residents from Living Well walking with volunteers in the village, listening to weekly summer band concerts on the green, and attending other community events such as the Fall Musical at Mt. Abraham Union Middle/High School. The residence is part of the Living Well Group community, a 501(c)(3) nonprofit organization whose mission is to create a model of whole-person elder care that honors, respects, and elevates each individual while redefining aging in America.
Headquartered in Burlington, Living Well Group operates three holistic, residential campuses throughout Vermont-Living Well Residence in Bristol, Heaton Woods Residence in Montpelier, and Ethan Allen Residence in Burlington- as well as providing consulting services for other level-3 care facilities.
One of Living Well's core philosophies is to honor our residents by promoting conscious aging, vital living, and providing individualized care. Our innovative Farm to Care™ food program supports the Vermont food system by prioritizing local purchasing to provide our staff and residents with delicious, locally-sourced meals.
Our mission to provide our residents with a space to "age in community" when they can no longer "age in place" is essential to our functioning. We achieve this in a number of ways, including bringing community members into our residences to lead classes, perform, and visit with our residents, as well as working with tons of local vendors.
100% of the proceeds raised by the Rally for Change will be used to support engagement programming at Living Well Residence. For nearly 15 years, the residents at Living Well Residence have been engaged through expressive arts, music therapy, yoga, Bone Builders strength training, garden programs at our beautiful onsite garden, attendance at community events, and more. Charitable donations are essential to sustaining these programs as well as engaging our residents.
For more information about Living Well Residence, please visit https://livingwellgroup.org/location/living-well-residence-bristol-vermont/, call 802-453-3946, or email Cameron Segal at csegal@livingwellgroup.org.
Thank you!
Living Well Residence, 71 Maple Street, Bristol, Vermont 05443, 802-453-3946, https://livingwellgroup.org/location/living-well-residence-bristol-vermont/