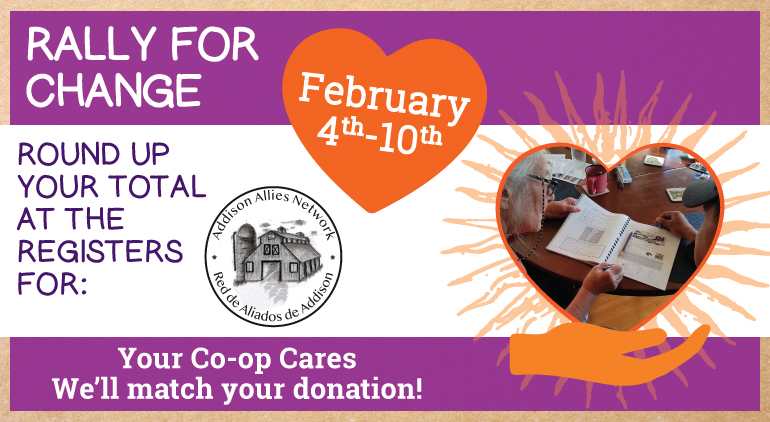 Middlebury Natural Foods Co-op
9 Washington St., Middlebury, VT 05753
Round up your totals at the registers February 4 – 10. The Co-op will match your donation and pass it along to Addison Allies.
Rally Every Time You Shop! When not featuring a specific non-profit, donations are given to Addison County Food Shelves
In April 2017, responding to the Latino farmworkers' desire to learn English, Addison Allies Network (AAN) was created. Now, we are a network of over 40 volunteers in Addison County. As times have changed, so have we, but our purpose has always been to:
offer English language coaching
help with accessing services like the GED program and driver licenses and permits
support the acquisition of daily necessities like cell phones and warm winter clothing
provide transportation for shopping and medical (or other) appointments
During these three-and-a-half years, we have built many social relationships and forged a strong web of social service providers who can work with those in the Migrant Community who need support. As Addison Allies Network continues to grow, we now also see the need to gain a deep connection with the farm owners in Addison County to create better solutions to some of the most pressing issues, like transportation and housing.
– Addison Allies
Redondea el total de su compra en la cooperativa del 4 al 10 de febrero. La cooperativa igualará su donación para apoyar la red de aliados de Addison En abril de 2017, respondiendo al deseo de los trabajadores agrícolas latinos de aprender inglés, se creó Addison Allies Network (AAN). Ahora, somos una red de más de 40 voluntarios en el condado de Addison. A medida que los tiempos han cambiado, nosotros también, pero nuestro propósito siempre ha sido: – ofrecer entrenamiento en el idioma de inglés- ayuda para acceder a servicios como el programa GED y licencias y permisos de conducir- Ayudar a adquirir las necesidades diarias como teléfonos celulares y ropa abrigada de invierno.- proporcionar transporte para compras y citas médicas (u otras) Durante estos tres años y medio, hemos construido muchas relaciones sociales y forjado una web fuerte de proveedores de servicios sociales que pueden trabajar con aquellos en la Comunidad Migrante que necesitan apoyo. A medida que Addison Allies Network continúa creciendo, ahora también vemos la necesidad de lograr una conexión profunda con los dueños los ranchos en el condado de Addison para crear mejores soluciones a algunos de los asuntos más urgentes, como el transporte y la vivienda. – aliados de Addison
Follow Addison Allies on Facebook.