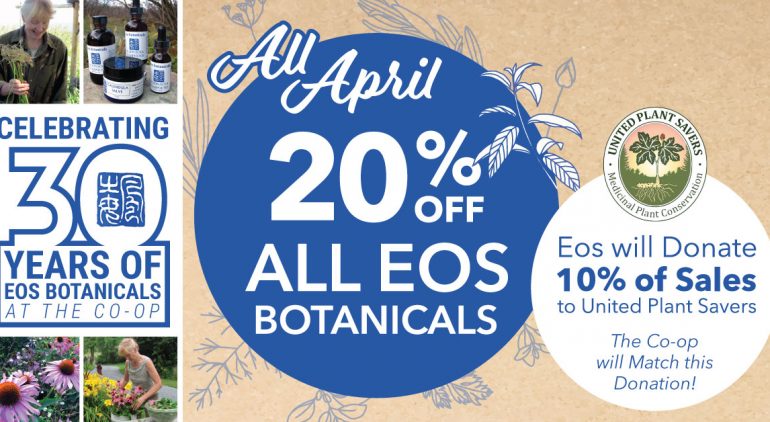 Middlebury Food Co-op
9 Washington St., Middlebury, VT 05753
All April, Co-op shoppers receive an additional 20% off ALL Eos Botanicals products. Eos will donate 10% of Sales to United Plant Savers and the Co-op will MATCH this donation. United Plant Savers' mission is to protect native medicinal plants of the United States and Canada and their native habitat while ensuring an abundant renewable supply of medicinal plants for generations to come (from their website at unitedplantsavers.org).
Julie Mitchell has been working with the Co-op for 30 years, providing homegrown and handcrafted botanical products, and sometimes serving as our "herbalist in the aisle" in our Wellness Department. Here's what she has to say about her experience working with botanicals and with our Co-op.
In 1989, I established Eos Botanicals and started making herbal products for the Farmers Market in Burlington and Middlebury. Over the years, I have tried to maintain the hand-crafted and quality aspect of my business, growing what I'm able or wildcrafting what is abundant and available here in the Northeast.
As the years have passed, the herbs and their optimal gathering times, mark the seasons – knowing when April rolls around, I need to prune the crampbark limbs, pick the young nettle; that first week in July is time to look at the flowering of St.Johnswort and the fall for digging many, many roots, elecampane, dandelion, yellow dock, and wild yam.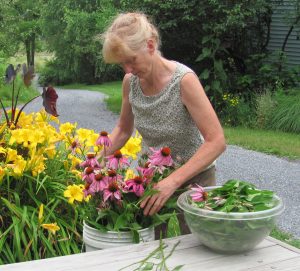 I was so grateful when United Plant Savers (UPS), came into being in 1994. Herbalist and visionary Rosemary Gladstar had the foresight to implement this non-profit. She recognized that conservation and sustainability would be necessary if we wished to continue to learn from these plant medicines. UPS has become an international endeavor, as we continue to ask plants to be part of our food and support our well-being. UPS's mission statement is: to ensure an abundant renewable supply of our medicinal allies for generations to come. For information on how to become a member, visit UPS at www.unitedplantsavers.org
2021 is my 30th year of making and selling tinctures to the Co-op, and I would like to give my heartfelt thanks to the Co-op and this community's generosity in supporting Eos Botanicals. I found my first invoice to the Middlebury Natural Food Cooperative from January 3rd, 1991 (see photo)…Yowza! I clearly remember being quite excited to be able to offer herbs to the community in this way.
Eos Botanicals and MNFC in conjunction, are offering a 20% discount on all Eos products. 10% of the total sales from April will also be donated by Eos Botanicals to UPS. The Co-op will MATCH this donation!
In humble appreciation, warmth, and goodness to all people and plants! Walk gently on the earth.
Julie Mitchell, Herbalist