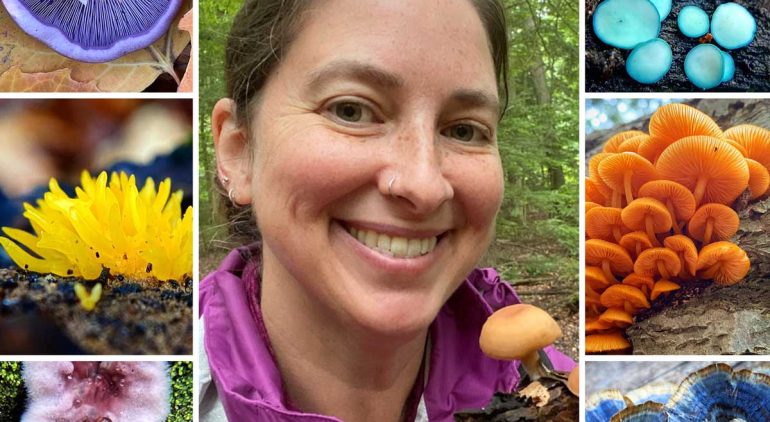 Sep. 21st
5:00pm – 7:00pm
Hannaford Career Center
51 Charles Ave., Middlebury, VT 05753
Are you fungi-curious? Do you see interesting mushrooms in your travels and wish you knew more about these fascinating organisms? In this workshop, we will explore the woods and learn about the mushrooms we find along the way including what they are, how to identify them, and the essential roles that these fungi play in forest ecology. We will also discuss the importance of community science and learn tips and tricks for taking mushroom photos. We will meet at Wright Park on Seymour Street Extension in Middlebury at 5:00 pm. Wear comfortable walking shoes, weather-appropriate clothing, and bring your questions and curiosity! A smartphone equipped with the iNaturalist app is a plus, but not required.
Fungi educator, author, and professional photographer, Meg Madden, can often be found in the forests of her childhood practicing what she calls "mushroom yoga" — laying on the ground, standing on her head, or balancing precariously on a log — to capture the perfect snail's-eye view of her favorite photo subject: Fungi! Her colorful, highly detailed mushroom portraits offer an intimate look into the often-overlooked world of these extraordinary organisms. Inspired by the belief that people are more likely to take care of something they love, she finds great joy in facilitating fun and meaningful connections between humans and nature. Meg shares her knowledge and contagious passion for the fantastic world of fungi through visually engaging presentations, mushroom walks, and via her Instagram gallery @megmaddendesign. An advocate for fungal diversity and community science, Meg teaches iNaturalist classes, organizes educational workshops and Bioblitzes, and is compiling an Atlas Of Fungi for the state of Vermont.
Advance registration is required. Please register at least one week in advance. Enrollment is first-come, first-served. This class will be capped at 15 participants. All classes are $30, or FREE for members of the Co-op's Food For All Program. To register, email Denise at the Hannaford Career Center (dsenesac@pahcc.org) or call (802) 382-1004.