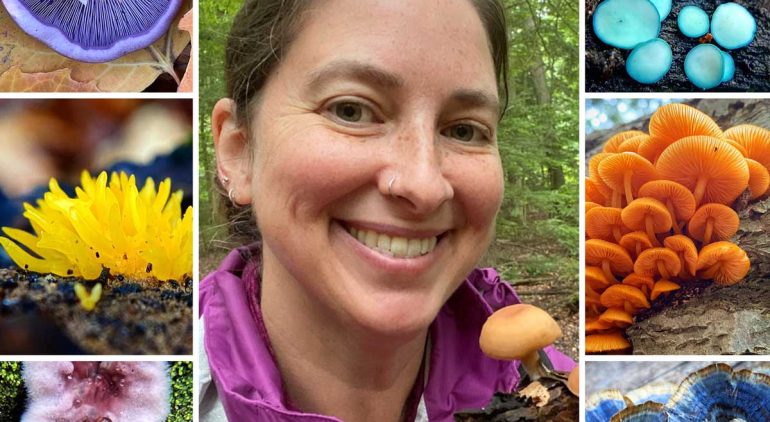 Oct. 12th
5:00pm – 7:00pm
Wright Park
Dead end of Seymour Street Extension, Middlebury, VT 05753
It's widely known that some fungi are decomposers, but did you know that they can also eat plastic, clean up oil spills, hunt for prey, and enable trees to talk to each other? Join mycology educator, macro photographer, and author, Meg Madden, on a mushroom curiosity walk to learn more about the lives of these fascinating organisms. On this walk, we will explore the woods and talk about the mushrooms we find along the way including what they are and how to identify them. From building soil to connecting trees, we will go over the essential roles that fungi play within their natural communities. From environmental remediation to mycelium-based green building materials, we'll also learn about some of the unique ways fungi can help us navigate our way in a more planet-friendly manner. Meg will also discuss the importance of community science, how you can contribute to Vermont's growing database of fungi species on iNaturalist, and share tips and tricks for taking scientific-grade mushroom photos. We will meet at Wright Park on Seymour Street Extension at 5:00 pm. Wear comfortable walking shoes, weather-appropriate clothing, and bring your questions and curiosity! Signed copies of Meg's new book, This Is A Book For People Who Love Mushrooms will be available for purchase.
Fungi educator, author, and photographer, Meg Madden, can often be found in the forests of her childhood practicing what she calls "mushroom yoga" — laying on the ground, standing on her head, or balancing precariously on a log — to capture the perfect snail's-eye view of her favorite photo subject: Fungi! Her colorful, highly detailed mushroom portraits offer an intimate look into the often-overlooked world of these extraordinary organisms. Inspired by the belief that people are more likely to take care of something they love, she finds great joy in facilitating fun and meaningful connections between humans and nature. Meg shares her knowledge and contagious passion for the fantastic world of fungi through visually engaging presentations, mushroom walks, and via her Instagram gallery @megmaddendesign. An advocate for fungal diversity and community science, Meg teaches iNaturalist workshops and is helping to compile an Atlas Of Fungi for the state of Vermont.
Advance registration is required. Please register at least one week in advance. Enrollment is first-come, first-served. This class will be capped at 15 participants. All classes are $30, or FREE for members of the Co-op's Food For All Program. To register, please click here.