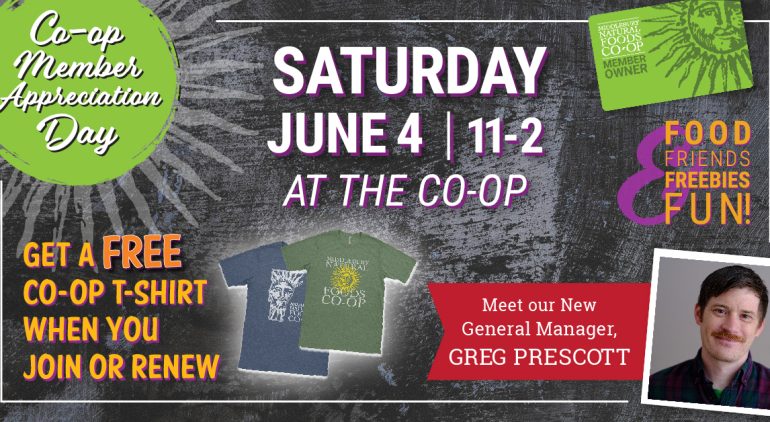 Jun. 4th
11:00am – 2:00pm
Middlebury Food Co-op
9 Washington St., Middlebury, VT 05753
We are so grateful to our member-owners for all that you do to support your Co-op. It's time we showed you a little appreciation! Stop by the Co-op on Saturday, June 4, 11 am to 2 pm to feel the love! Start your visit at the Co-op Plaza and:
Meet your new General Manager – Greg Prescott (he'll be tending the grill, so you won't be able to miss him!)- he's excited to talk with all of you!
Enjoy free Co-op Kitchen Made Quesadillas (bean and cheese), hot off the grill on the Co-op Plaza!
Then, reap the benefits of member-ownership and get a FREE Co-op T-Shirt when you:
Become a Co-op Member-Owner
Renew your Membership (12 months will be added to any renewed membership, so nothing is lost by renewing early)
Donate a Member Share to our Food For All program
Membership is just $20 per share and always fully refundable!
See YOU there on Saturday, June 4th, 11-2 at the Co-op (rain or shine)!