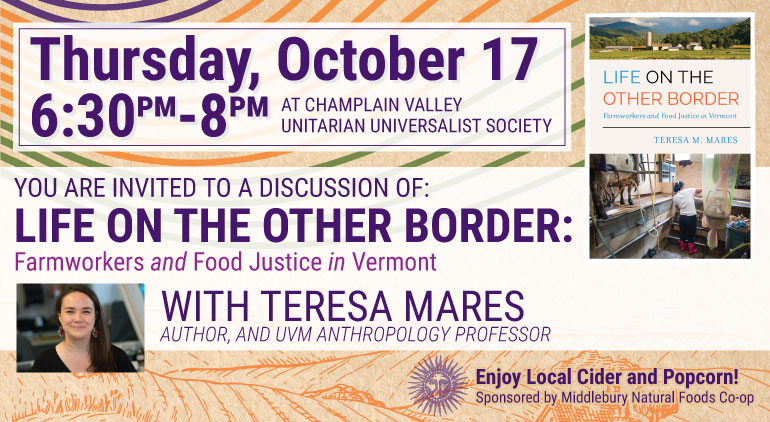 Oct. 17th
6:00pm – 7:30pm
Champlain Valley Unitarian Universalist Society
Charles Street, Middlebury
You are invited to participate in a discussion about the lives of migrant workers in Vermont. The evening will be led by author and UVM professor Teresa Mares, sponsored by Middlebury Natural Foods Co-op, and held at the Champlain Valley Unitarian Universalist Church on Charles Avenue in Middlebury on Thursday, October 17, 6:30-8 pm.
Parking at the church is limited and you are asked to park in the high school lot across the street.
Teresa Mares, Ph.D, is an Anthropology professor at the University of Vermont. In her new book, Life on the Other Border: Farmworkers and Food Justice in Vermont, she explores the vulnerability and food insecurity experienced by migrant farm workers in our state, and analyzes the inequities, fear and invisibility experienced by those who sustain our dairy industry. She also speaks to their humanity and resilience, and their actions to remain connected to the foods that provide a link to their families and familiar tables south of the border.
What is the reality and life experience of migrant workers and their families who sustain Vermont's dairy industry?
Learn about the Huertas Project. Huertas means "kitchen gardens" in Spanish and, through collaboration with volunteers and undocumented farm workers, the project promotes growing and preparing food that has cultural relevance and helps alleviate food insecurity.
Become more knowledgeable about the misalignment between agriculture and immigration policies and how these impact our food system.
How can you become involved in actions that will promote greater interaction with these often invisible members of our community, and promote diversity, equity, and inclusion?
Explore processes that could alleviate food insecurity and promote access to foods that meet the cultural preferences of Latino/a workers.
Hope to see you there!