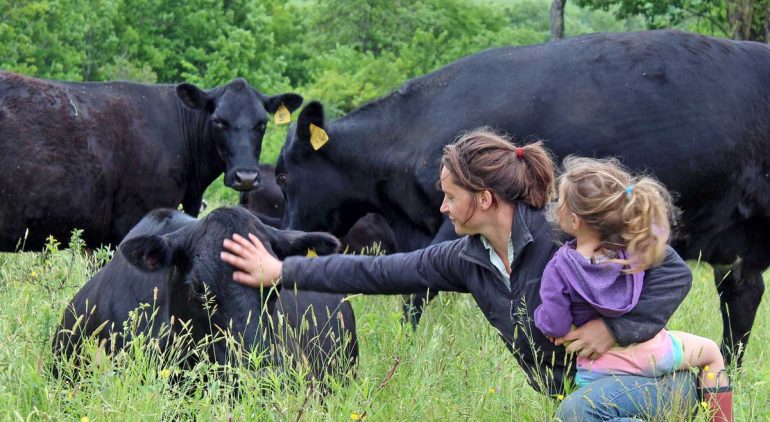 Sep. 28th
5:30pm – 7:30pm
Hannaford Career Center
51 Charles Ave., Middlebury, VT 05753
Industrial livestock production has been rightfully implicated in many injurious processes including land degradation, excess water use, nutrient excretion, fossil fuel use, and emission of greenhouse gases. However, when livestock are raised on their natural diets of grasses and other diverse forage, they offer great potential to positively impact human health and the health of our environment. Properly managed grass-fed cattle raised in silvopasture systems, like those at Squier Family Farm in Tinmouth, VT, are capable of sequestering carbon and regenerating land by restoring soil microbial diversity and increasing soil organic matter, making land more resilient to flooding and drought. This practice can also boost the nutrient content of the meat, resulting in more heart-healthy omega-3 fatty acids, more antioxidants, and more conjugated linoleic acid (CLA). Join Meadow Squier of Squier Family Farm to learn more about how her cattle are raised and how to prepare the meat, including one of her favorite recipes for "farmers deli meat", a dish made from a marinated, sliced beef roast.
Meadow Squier is the female force behind a small, local family farm that focuses on regenerative agriculture and farming in ways that provide maximum ecological benefit while providing high-quality food for their community. They are excited to be building a large-scale silvopasture system on their 300-acre farm and seek to continually learn more about how they can better integrate regenerative food production on their steep, rocky terrain in Tinmouth. They take their land and animal stewardship roles very seriously and take pride in building ecologically beneficial farming systems that nourish their community.
Advance registration is required. Please register at least one week in advance. Classes are capped at 12 participants. Enrollment is first-come, first-served. All classes are $30, or FREE for members of the Co-op's Food For All Program. To register, email Denise at the Hannaford Career Center (dsenesac@pahcc.org) or call (802) 382-1004.