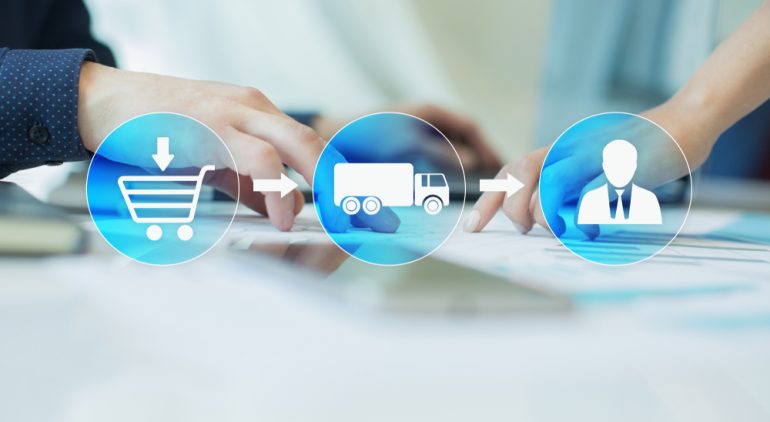 Considering Supply Chains
Until recently, many of us never thought about supply chains… but suddenly we're seeing empty shelves in markets again and getting worried. Supplies of rental cars in some cities are so low that renting a car will cost more than your airline ticket, and some schools are having so much trouble securing food for students that they are discontinuing lunch service. Even at the Co-op, we're seeing empty shelves and can't find goods that are usually in stock. What's behind the difficulties, and why are they happening now?
The large-scale issue is that the pandemic revealed the unsustainability of just-in-time manufacturing systems and persistent inequities in labor— including low wages and poor working conditions. Labor shortages upstream have impeded the delivery of products to the end-user (us), and a glitch in the system can cascade down to affect many products and supply chains. The food system hasn't been designed with buffers that would help overcome shortages. All incentives for business point toward keeping just enough stock on hand to deal with current demand, to avoid costs of storage.
During the pandemic, people shifted from buying services (including restaurant meals) to buying goods. Thus demand increased, especially for imported goods; but freight deliveries backed up because there aren't enough workers to load containers or drive and unload trucks. In some cases, it's an issue of wages that aren't high enough to hold workers on the job; but workers also get called out to take care of kids who are sick or quarantined, and anybody with a respiratory illness has to quarantine until results come back from COVID tests.
What does this mean for us and our Co-op? First, department managers haven't been able to order the quantities of food they normally would. The number of cases of product that can be ordered from our major supplier has been cut down to about 70% of pre-pandemic levels. Then when deliveries arrive, we often discover that something ordered wasn't available or can't be supplied in the quantity ordered. Special orders were discontinued because they cut into the case limit but only served individual member-owners. This management decision was made to try to serve as many customers as possible.
What can you do, as a member-owner? Not much! This is a problem that needs to be worked out at the food distribution system level. That will happen eventually, although the experts tell us that problems are likely to last through 2022. President Biden recently ordered Los Angeles docks to begin working 24/7 to relieve the bottleneck of freight that is waiting to unload. But California's dock bottlenecks are just part of the problem with the supply chain. And of course, with vaccine apartheid* continuing (which increases the risk of new and more deadly variants of COVID emerging), there's no guarantee of a return to "normal". What we can do is be patient and recognize that Co-op staff are working hard to try to meet your needs. And remember that all food supply chains rest on a healthy, biodiverse ecosystem. So, protect pollinators in your yards and don't cut down trees! Pollinators are endangered, and trees are sequestering carbon.
*what the U.S. is doing with vaccines is just like food apartheid or racial apartheid. Wealthy nations are gobbling up the vaccines and now moving to booster shots, while poor black and brown nations are less than 5% vaccinated.
Molly Anderson is a Middlebury Natural Foods Co-op Board Member