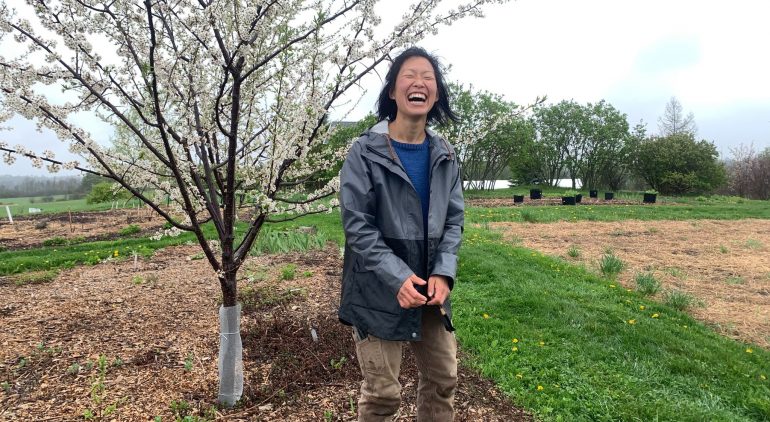 Talking with Megan Brakelely at The Knoll at Middlebury College.
Walking the TAM from either direction to The Knoll at Middlebury College is an other-worldly experience. From one direction the path meanders along open fields and through a little magical forest filled with fairies. From the other side, the path winds alongside another type of current (pun intended) day magic – large flat square objects that follow the sun transforming sunlight into electricity to support the renewable power portfolio of Middlebury College. Once upon The Knoll the Labyrinth and Dalai Lama rock beckon the visitor to slow down and just be, surrounded by the vast perennial, vegetable, and flower beds.
The Knoll is tended by Middlebury College students under the guidance of Megan Brakeley and other Middlebury staff. Megan brings a great vibe and deep experience with farming to her tending of The Knoll similar to her predecessor Jay Leshinsky balancing and harmonizing the needs of non-human living beings with human living beings. Megan graduated from Middlebury College in 2006 with a degree in Spanish and a minor in Environmental Studies. After seven years of learning from her students and the land through teaching and farming after graduation, Megan pursued a Masters of Environmental Management from the Yale School of the Environment.
I've known Megan since her days in the Center for Community Engagement at Middlebury, and have been witness to what she calls one of her superpowers, "navigating and advocating for different kinds of spaces." Whether you are a silphium (The Land Institute's perennial sunflower) in need of some ground to call home, a student finding your "place" at Middlebury, or you are seeking an organizer with deep knowledge of sustainable farming who is calm and centered (Megan is on the Organizing Squad VT Releaf Collectively) you will not regret knowing Megan.
As a mentor for students and a mentee of many others as she expands her connection to the BIPOC farming community in Vermont, she feels fortunate that Jay worked alongside her as she transitioned to running The Knoll. Megan brings a great laugh, a huge smile, and a deep knowing that is instantly comforting. While many of us at the Coop know Jay from his many years on our Board of Directors, serving as president, Megan has been grateful for his stewardship at The Knoll. The Knoll was founded by students just a couple of years ahead of Megan at Middlebury who also benefited from Jay's wisdom. "Jay is someone who holds experiences and lets them soften him. He has a gentleness with others, is always curious, generous, generative, and creates space for others," Megan reflected. Jay and Megan shared stories and tea during early morning meetings at the Wilson Cafe on campus during the transition. Jay shared the origin story of the Knoll with Megan at that time, which emerged from many voices and many hands to come into the shape it is today.
One of the things Megan brings to her work, and to these uncertain and even chaotic times, is curiosity about leadership. What does it look like to support sustainable farming practices in Vermont – in the BIPOC community beyond her Middlebury College work? How are these spaces held, how are they re-claimed? Megan is stepping into her own as a leader, accomplice, and amplifier as she considers the current state of the world and her place in it. She works for the shift believing in the work required to change the dominant power structures to create access, equity, and inclusion. "Leadership, representation, fresh ideas, and familiarity with reimagining and thinking outside existing hegemonies matters," Megan observes. "What does it mean to 'center voices' in a holistic way where we also acknowledge past harm, work toward making amends, and do the real reparative work to actively resource the people who can transform and guide this work?" These are ideas and actions the Board's recently formed Justice, Equity, Diversity, and Inclusion (JEDI) committee is addressing.
And, how does all that relate to growing food in the role of the educator? Megan brings her questions and her insights "growing food means becoming intimate with multiple intelligences, seeds, dirt, weather, tending. How can we as a community feed and nourish each other? What does it mean to be free and in service to each other and the land?"
Recent good news is that the summer intern program will be back this summer at The Knoll where students collectively work the land taking the blank garden spaces and choosing as a group the story the land will share during a 16-week space. "Working with natural systems is always an adventure, we work hard, are thoughtful, do our best, and then roll with what comes each summer," Megan said.
Nadine Canter Barnicle is a Middlebury Natural Foods Co-op Board Member and a member of our Communications and Justice, Equity, Diversity, and Inclusion committees.