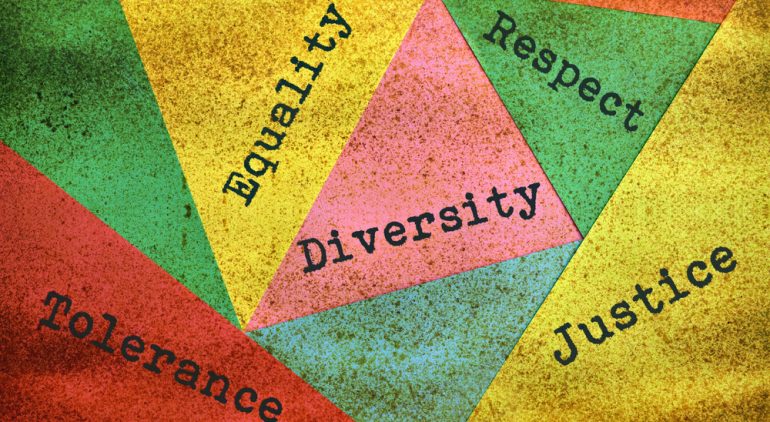 Racial Justice and Your Co-op
Sadly, the news is full of incidents of racial injustice across our country, including here in Vermont. Are you surprised by this? Check out this excellent program on VPR's Brave Little State entitled, Why is Vermont So Overwhelmingly White?, and hear from several people of color living in Vermont sharing their often sad and shocking experiences.
At your Co-op, we are committed to supporting black, indigenous, and people of color in our community. Everyone is welcome at the Co-op as we strive to create a safe and welcoming environment for customers and staff. I'm happy to report that in our most recent data analysis of the random customer surveys connected to your receipts, in the last three months, 99% of 280 customers who answered the survey chose a 5 (out of 5) for saying they feel welcome at the Co-op. Of course, we know there are still some people who do not always feel welcome, so we won't rest on our laurels.
I last reported on our work early this past summer when we held a fundraiser for the local chapter of the NAACP in Rutland, raising $25,000 to support their work. Since then, and despite the challenges of COVID, we have been busy educating ourselves about systemic racism and working toward becoming a more welcoming co-op for all members of our community.
Here are some of the concrete actions we've taken in recent months:
Several board members and I recently participated in the six-month Abolitionist Challenge designed for food co-op staff and board members across the country. Each month we read a different book on racial justice, and then over 100 of us met to discuss these via Zoom.
As a regional spin-off from the group above, our Neighboring Food Co-op Association (NFCA) convened a smaller group of GMs and board members to meet monthly to share what steps our co-ops are taking toward this community challenge. NFCA is made up of over 30 co-ops in New England. Much of the talk is about how to lead in being more welcoming. I appreciate Hunger Mt. Co-op saying, "we respect differences, honor each person, value unique stories, and seek to learn from each other. We succeed when you feel this is your co-op." And City Market saying, "we have to start doing justice work for the demographics we have, whatever they are, and lead from a place of ethics and justice."
The Middlebury Co-op Board of Directors just had their annual retreat in January which was focused on increasing education about racism and its impacts, then thinking about the next steps. We'll talk more at the January board meeting and will report back to co-op member-owners.
On the national stage, food co-ops across the country are exploring how to work together to build a positive and inclusive culture that values a diversity of ideas, perspectives, and identities.
Despite the challenges of COVID with no in-person meetings, your Co-op managers and assistant managers began a series of trainings with Renee Wells, the Director of Education for Equity and Inclusion at Middlebury College, focused on how to handle microaggressions when they occur in the Co-op. Next, we plan to do trainings with all staff via Zoom in the coming months.
Co-op staff have been having open conversations as well as book groups on racial justice and unconscious bias for the past two years. Recently we bought 10 copies of Caste by Isabel Wilkerson. We believe that self-learning is a powerful first step toward an antiracist community. Other books we've explored together include White Fragility by Robin Diangelo, So you want to talk about Race by Ijeoma Oluo, and My Grandmother's Hands by Resmaa Menakem.
Since all white people are a product of racist culture, I realize we have a lifetime of work to unlearn racist attitudes and behaviors. I'm understanding more and more that we are on a life-long journey of learning that has no discernable end, but which is moving us closer to a more equitable and inclusive society. We invite you to join us on the journey and share your ideas on how we might reach our goal of creating a welcoming and inclusive Co-op for everyone.
Glenn Lower is the General Manager of Middlebury Natural Foods Co-op