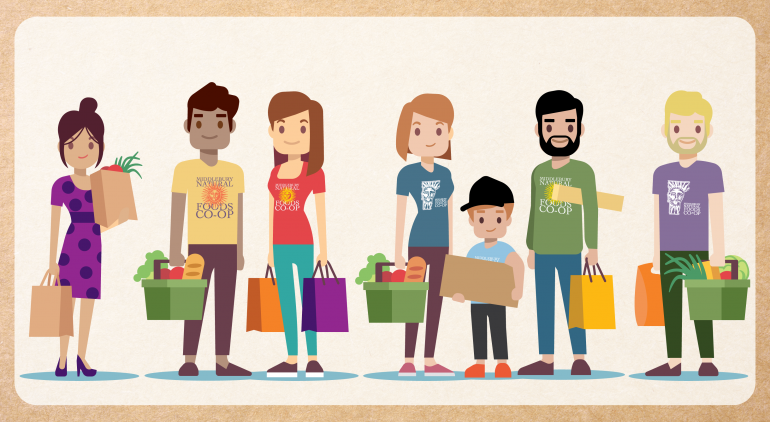 Answering your Questions About COVID-19 and the Co-op
Our members are rightly concerned about the Novel Coronavirus, now known as COVID-19, and have asked how the virus is affecting the Co-op. Here is a list of actions we are taking so far. We will update this list as the situation changes:
As of May 14, we are reminding shoppers to please shop alone and limit shopping trips whenever possible.
Starting April 19, all Co-op Staff, per Vermont order, will wear masks in the store.
Starting on April 1st, we ask that all staff and shoppers wear gloves in the store.
Since March 1st, we have been matching all "round-ups" at the register for local food shelves, CVOEO and HOPE
On Saturday, 3/28, we installed protective plexiglass shields at our registers.
Starting Monday, 3/30, we will offer Temporary Emergency Online Ordering and Curbside Pickup from a limited menu for our most vulnerable shoppers. If you need help with shopping or food delivery, please reach out to HOPE.
Effective 5 pm on Wednesday, 3/25, the Governor has restricted face to face contact in places of business. This does NOT apply to the Co-op, as grocery stores are deemed "essential businesses".
Effective Wednesday, 3/25, all shoppers are asked to wear a pair of complementary disposable gloves before entering the store.
Effective Wednesday, 3/25, all shoppers are asked NOT to bring their own containers or bags of any kind.
As of Sunday, 3/22, we are exploring limited options for curbside pickup for our most vulnerable shoppers. Updates here.
Starting Friday, 3/20, we will reserve the first hour of business (9 am to 10 am) for seniors and vulnerable shoppers.
Starting Thursday, 3/19, all Co-op staff will wear disposable gloves while working in the store.
Starting Wednesday, 3/18, we will be opening at 9 am, to allow our staff more time to clean and prepare the store for the health of our shoppers.
Starting 3/16/20, our seating area will be closed.
We are increasing our sanitation practices throughout the store.
We are suspending our member worker program for the time being.
We are closing the hot bar and salad bar for the time being. Packaged salad and hot food offerings have been added in their stead.
We are putting all non-essential projects on hold.
We are canceling all non-essential in-person meetings for the next 30 days (this includes department meetings, all workshops, off-site training, shift leader meetings, assistant manager meetings, management meetings, etc.
We are asking all staff who travel outside Vermont to be sure to read guidelines from the CDC and to check in with our Human Resources department before returning to work.
About the Virus
For complete information, visit these excellent and frequently updated pages from our friends at UVM Medical Center and Dartmouth Hitchcock Medical Center.
About the Co-op's Response
We have many procedures already in place to help protect the safety of our employees, members, and shoppers—procedures we rely on to reduce the spread of foodborne illness and seasonal colds and flu every year. Learn more below.
The Virus and Food
According to the Harvard Health Blog, it's not clear if the virus can spread through food. Even if so, it would be highly unlikely. Regardless, health officials cannot absolutely rule out the possibility of transmission from infected food handlers.
Food Safety at the Co-op
The Co-op's food-safety program is the among best in the business.
Our employees must follow a strict set of standard operating procedures when handling products.
Many employees are ServSafe® certified. ServSafe® is a highly regarded food-safety training program administered by the U.S. National Restaurant Association. Many Co-op employees have the same level of certification as the managers of major restaurants.
Out of care for our community, our practice has always been for staff to remain at home when they are sick. All of our full-time and part-time staff accumulate paid time off to cover sick time.
Supplies
You may have heard stories about grocery stores running out of food and household items as consumers horde the essentials. One of our strengths is that we source from multiple suppliers and don't pull from a central warehouse. Therefore we have multiple avenues for securing products even when there are gaps in availability. This is one of the many moments when we feel grateful to work with so many small, local producers!
Trustworthy Resources
The internet is full of misinformation, and social media channels thrive on hyperbolic language. One of the best things you can do is stay informed with accurate information. We suggest the following, recommended by Harvard Medical School:
For regular news, trust sources with deep, award-winning health reporting. We suggest:
Work with Us
Finally, we ask all of our members, shoppers, and employees to partner with us in this. No matter how many food-safety protocols we may have in place, we can't control shoppers who might come to the store sick or handle packages with germs on their hands. WHO has great advice here on how to be responsible in order to protect yourself—and by extension your community—from the virus.