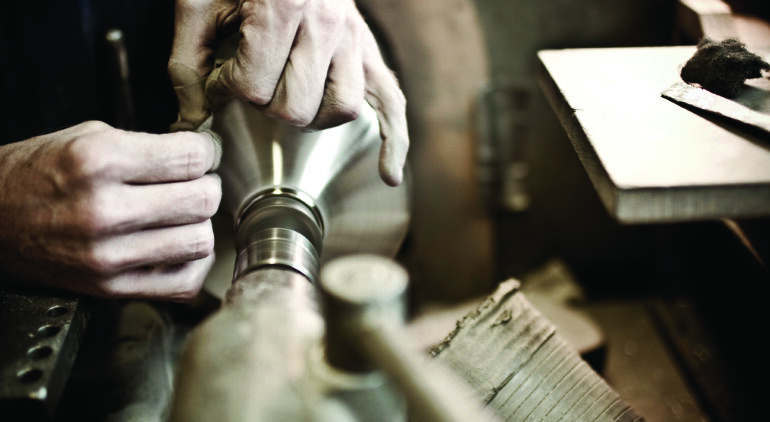 Featured Co-op Connection Business: Danforth Pewter

With graduation, Mother's Day, and wedding season on the horizon, it's likely that you're in search of some special, locally made, handcrafted gifts. Look no further than Middlebury's own Danforth Pewter! They're our featured Co-op Connection Business and we're reminding you that Danforth offers 10% off to card-carrying Co-op member-owners! Visit their workshop and store at 52 Seymour Street where you might catch a glimpse of their pewter crafters in action, thanks to the workshop viewing windows. They also have a beautiful retail store on Main Street in the heart of downtown Middlebury, or you can visit them online.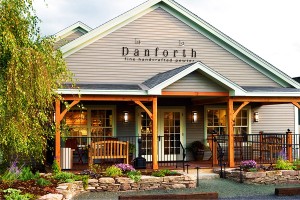 The Danforth family has a rich history of working with pewter, dating all the way back to 1755 when Thomas Danforth II opened a pewter workshop in colonial Connecticut. Several generations of the Danforth family followed him into the pewter trade. The last of the colonial-era Danforths stopped working in pewter in 1873. There is colonial Danforth pewter in the Smithsonian, the Museum of Fine Arts in Boston, the Museum Collection at Colonial Williamsburg, and many other American museums.
One hundred years later, Thomas Danforth II's great-great-great-great-great grandson Fred Danforth, and Fred's wife Judi Danforth, revived the family tradition when they opened Danforth Pewter in Vermont in 1975. Over the next 33 years, the company grew to include four retail stores, a web store, a wholesale business providing products to several hundred independent gift stores around the country, a custom design business, and a corporate gift and recognition business.
Today, every piece of Danforth, Shirley and Pewter Port pewter is crafted by hand from 100% lead-free fine pewter in our Middlebury, Vermont workshop. Our line includes everything from miniature pocket charms to one-of-a-kind oil lamps signed by the artist, and our more popular categories are jewelry, holiday ornaments and key rings.
Here's what Fred & Judi have to say about their pewter:
We are passionate about our craft and proud of our family's longtime involvement in the rich history of pewter making in America. We strive to keep artisan pewter alive and well in the 21st century by offering a wide range of items, with both original contemporary designs and classic pieces.
Our pewter is 100% lead-free and meets or exceeds all FDA food-safety standards. Our designs and products are all hand crafted right here in Middlebury, Vermont.
We strive to make your entire experience special. From learning about pewter to receiving your final purchase, we want your every interaction with our company to be a reflection of our passion for beautiful pewter gifts. Our goal is your complete satisfaction, and to ensure that your ordering experience is timely, convenient, and enjoyable.
Click here for a full listing of Co-op Connection businesses and discounts.