What comes to mind when you think of organically-grown produce? Does it conjure a pastoral scene with fields of fertile soil dotted with lush, healthy plants? What about hydroponic 'vegetable factories' and 'vertical farms' where production is hermetically sealed in huge warehouses filled with LED lights and nutrient pumps? Should hydroponic production operations like these qualify for organic certification?
This is the hotly-contested question being debated by the USDA's National Organic Standards Board (NOSB). They've been granted the authority to determine whether fertile soil is to remain the foundation of organic farming. To many, this seems like a no-brainer since the original government definition of 'organic' stressed 'soil biological activity' as one of the vital processes enhanced by organic practices. Unfortunately, under significant corporate pressure, the USDA rewrote that definition in 2002 to remove any reference to the word "soil."The massive influx of hydroponic vegetables and berries being certified is the result of corporate interests successfully redefining "organic" in the USDA.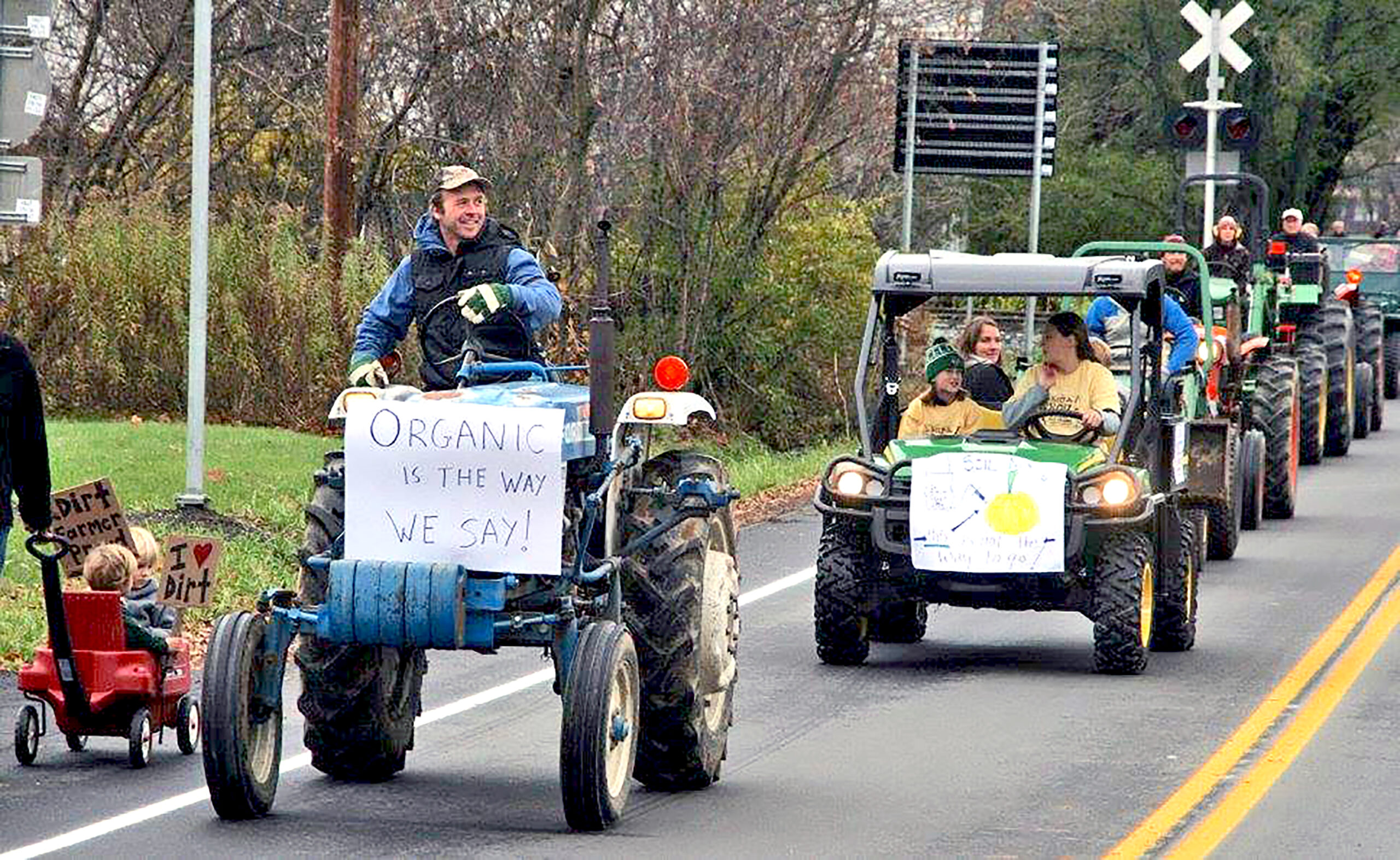 In October of 2016, Vermont farmers and legislators spoke out in opposition to this corporate takeover of organic during an event known as The Rally in the Valley. The protest was sponsored by NOFA-VT and took place in Thetford, VT. Hundreds of people marched with a 26 tractor cavalcade ending at Cedar Circle Farm, where Senator Patrick Leahy, Congressman Peter Welch, Congresswoman Chellie Pingree, and farmers such as Eliot Coleman and Will Allen spoke about the importance of returning to real organic. Check out this great video from that event. We spotted Will and Judy Stevens of Golden Russet Farm & Mia Allen of Mountain Yard Farm in the crowd lending their voices to this important cause.  Do you recognize any of your favorite farmers?
Their message continues to gain steam and in January of 2017 Eliot Coleman gave a powerful keynote address at the Mid-American Organic Alliance (MOA) winter conference described by one attendee as "a love letter to organic agriculture". In his address, Eliot called for us to wake up to what is happening to the organic label, urging that "long time supporters of organic farming need to realize that the ground has shifted under their feet. Ever since the USDA (and by association the industrial food lobbyists) was given control of the word, the integrity of the 'USDA Certified Organic' label has been on a predictable descent." Eliot went on to say, "There isn't any soil in hydroponic production. How can it be organic? One of the appeals of organically grown food is based on the high nutrient status of plants grown in a biologically active fertile soil, with all its known and yet to be discovered benefits." He urged those in attendance to stand up for the future of organic.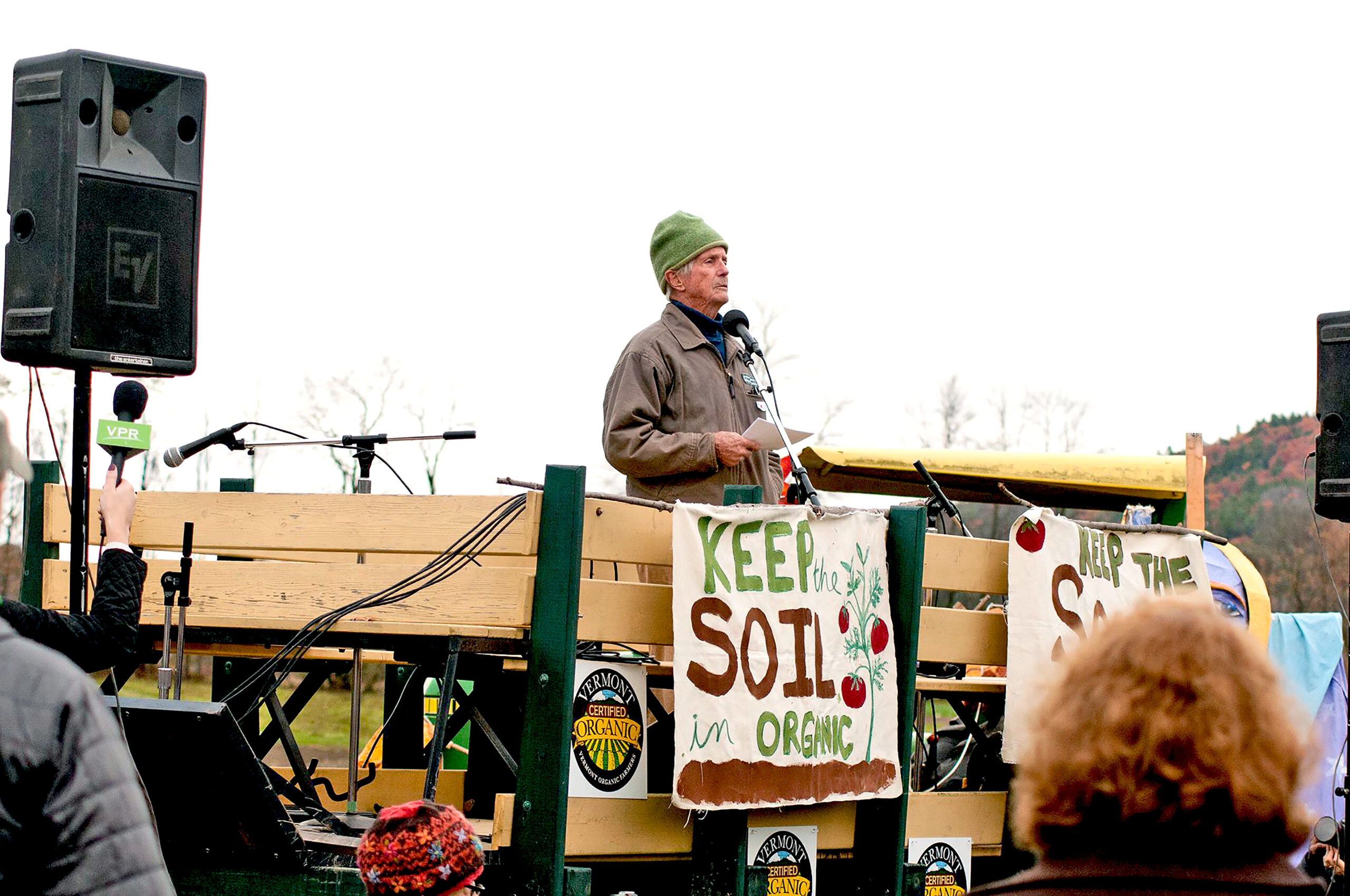 Another powerful voice for the cause was offered by Vandana Shiva in her keynote address at the recent NOFA-VT winter conference. Vandana is world famous for her opposition to Monsanto and Big Ag and she's widely respected for her defense of small farmers and healthy soils around the world. In the middle of her address, she held up a "Keep The Soil In Organic" t-shirt, and said, " I think it is in the soil that our future lies. As Ayurveda says, 'In this handful of soil is your future. Take care of it.' This is 4000 years ago wisdom…Soil will sustain you and provide you with food, and clothing, and shelter, and beauty. Beauty is very much a part of it. Destroy it and it will destroy you. Now, ALL of chemical farming has been an escape from the soil and an arrogance that you can replace it…Every step of so-called innovation in agriculture is running away from the soil. It stops being agriculture because 'agriculture' means 'taking care of the land'." View Vandana Shiva's entire inspiring address below:
According to one of the founders of this movement, Dave Chapman, "the question of hydroponics in organic goes to the core meaning of the word. If organic isn't about healthy soil, then what is it about?". As one soil scientist said, "The answer is soil. The question is irrelevant."
Get Involved
Do you believe that healthy soil is the foundation of organic farming? Let your voice be heard! The NOSB meets next month in Denver to talk about this important issue. Click HERE to submit a comment to the NOSB. You can also click HERE to sign a petition to keep the soil in organic. Stay in the know by visiting the Keep the Soil in Organic webpage, and by following them on Facebook, and Twitter.