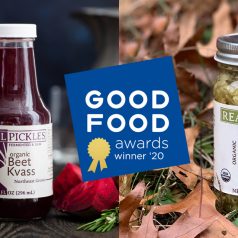 Real Pickles, a Greenfield, MA worker co-operative, won two Good Food Awards on January 17th for their Organic Beet Kvass and Organic Nettle Kraut. Real Pickles co-owners Annie Winkler and Greg Nichols received the awards at a San Francisco gala hosted by renowned farm labor activist Dolores Huerta, food author Michael Pollan, and chef Alice Waters. The Good Food Awards recognizes American food and drink crafters who demonstrate both a mastery of their craft and a commitment to maintaining exceptionally high social and environmental standards in their work.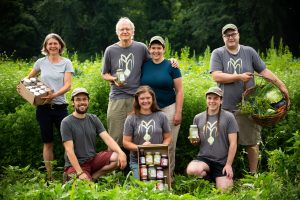 A timely example of Real Pickles' commitment to responsible food is their recent 31-kW solar array which, installed beside their existing 17-kW array, makes Real Pickles' facility 100% solar powered. "Environmental sustainability and strong regional food systems are at the core of our mission," says Dan Rosenberg, founder, and general manager. "We are always seeking ways to reduce our carbon emissions, increase our use of renewable energy, and support policies that push for climate mitigation."
In operation since 2001, Real Pickles makes fermented dill pickles, sauerkraut, beets, kimchi, hot sauce, and other traditional pickled foods. The co-operative buys over 300,000 pounds of certified organic produce each year from Northeast family farms. The winning products feature beets from Harlow Farm in Westminster, VT; cabbage from Atlas Farm in South Deerfield, MA; and fresh nettles from Sawmill Farm in Florence, MA, and Zack Woods Herb Farm in Hyde Park, VT.
"These awards highlight the reason we're in business," said Annie Winkler, production manager. "We are proud to contribute to a community that values a healthy and nourishing food system – for people, communities, and our planet."
The Good Food Awards celebrated its tenth anniversary by announcing 219 winners in sixteen food categories who are fostering land stewardship, strengthening communities, and building soil health.
The winners rose to the top in a blind tasting of 1,835 entries, then passed a rigorous vetting to confirm they meet Good Food Awards standards regarding ingredient sourcing and environmentally sound agricultural practices.
Real Pickles products are sold at over 500 retail outlets in the Northeast, including co-operative grocers, natural food stores, and regional farm stands.