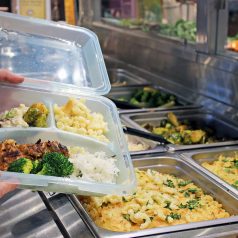 Hello fellow Co-Op Members,
For those of you who might not have had the chance to read the blog post I sent out a few weeks ago concerning compostable packaging in the Co-Op, I'll introduce myself again; my name is Greg Prescott, Store Operations Manager.
In my last post, I wanted to connect with you to discuss the largest roadblock in switching over all our packaging to compostable— that we do not yet have access to high-heat composting facilities, which are required for proper decomposition of packaging. For this reason, we still rely on plastics, which can be recycled, but we are actively looking for better alternatives to meet our packaging needs.
In light of this commitment to finding more sustainable alternatives, we're introducing the reusable take-home salad and hot bar container, which you may now find at the Co-Op: a BPA Free, NSF Certified, Health Code Compliant, microwavable and dishwasher safe reusable to-go container. I'm so pleased to be able to say, IT'S HERE!
This is a huge deal for us. A reusable container takes waste out of our landfills, which is our ultimate goal. All told, a reusable to-go container program can be difficult to execute because of important health codes. You may be familiar with what it's like eating from a buffet, where you are required to grab a new plate each time you choose to fill up again. When I began my search for a reusable container, I remember thinking that this sort of "plate rule" seemed weird and wasteful, but it's really designed to keep consumers safe from the transference of unsafe or just plain gross substances we would potentially be exposed to if say, the romaine tongs picked up a looming "foreign substance". (insert villain music)
The health code states that all containers or plates for food need either be single use or washed and sanitized by the establishment between each and every use. This means, in practice, that I am unable to bring in my own container and fill it with delicious food unless the deli staff washes and sanitizes the container prior to use— a pretty inconvenient process for both staff and patron.
Therefore, we have invested in these new reusable to-go containers which will (hopefully) provide a streamlined alternative to our curent disposable packaging. Here's how it works:
Deli staff washes and sanitizes the containers
The containers are placed out near the salad and hot bar
A customer can grab one, fill it up with either salad or hot bar or both
Go through the register, pay for the food and provide a $5 deposit for the container
Rinse the container at home, your place of work or wherever you may find yourself
Bring the container back to the Co-Op and give it to a cashier to receive your $5 deposit back
AND REPEAT
This is the same system our customers have been using when buying glass bottle milk and, best of all, remains health code compliant. While this process may not work for everyone and does not address all of our hurdles in attempting to minimize waste on a broader scale, it does chip away at the issue. Every small step brings us closer to where we're going.
Thank you for helping to push our Co-Op forward and allowing me to serve in that process.
See you in the lunch line,
Greg Prescott
Store Operations Manager