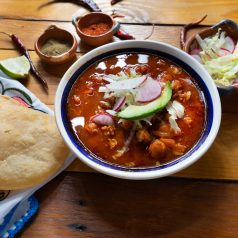 Las mañanitas a la Virgen de Guadalupe, or the Feast of Our Lady of Guadalupe falls on December 12th each year, commemorating the appearance of Mary to a Mexican peasant farmer named Juan Diego in 1531. The appearance of our Lady of Guadalupe and the events that followed were largely responsible for uniting the Aztec Indian community with the Christian Hispanics of Mexico, thus making Our Lady a powerful image of cultural solidarity. It has also become an important day for Mexican Americans to celebrate their religious and cultural identity.
Each year, in the days leading up to the celebration of Our Lady of Guadalupe's apparition on December 12, over five million pilgrims from across Mexico, the US, and the rest of Latin America flood the streets that lead to Mexico City's Basilica of Our Lady of Guadalupe. This event represents the largest pilgrimage in Latin America and the feast that follows is arguably one of the best displays of the country's cuisine. Whether celebrating in Mexico City or abroad, tortas, tacos, gorditas, carnitas, tamales, atole, and pozole are common fare to commemorate this special occasion.
With this in mind, our Weekly Sale from December 8th – 14th features a lineup of ingredients that honor the food traditions of this cultural holiday and this authentic Chicken Pozole Rojo recipe will help you pull it together!