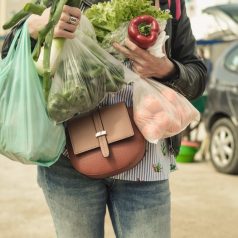 We on the MNFC board have been discussing plastics. Yes, plastics – does anyone remember The Graduate, or am I just dating myself? Anyway, these discussions are in response to the answers from the leading suggestion in our annual meeting survey: Reduce plastic waste (i.e. minimize packaging & encourage reusable bags). Greg Prescott, our store Operations Manager, wrote an excellent letter in the August electronic newsletter on this topic: The Trashy Truth About Compostables.
One of the biggest culprits in our use of plastic both operationally and by member-owners and other customers is the plastic bags provided in the bulk and produce department. We go through around 20,000 bags per month. These bags are for anyone to take and fill with our wonderful bulk foods or produce. The problem is not many people seem to bring back their plastic bag for reuse. The bulk department is designed around reducing our packaging footprint, but there is an environmental cost to using all this plastic in lieu of other packaging.
In addition, the Co-op uses many plastic bags to prepackage bulk for customer convenience. The bulk department could consider switching to a plastic recyclable clamshell but this has potentially negative consequences including an increase in costs. We can't just stop offering plastic bags for customers in bulk and in produce, but we all can reduce what we use personally.
There are ways that we all, as customers, can help reduce this plastic use. We can bring own containers and/or pick up a mason jar now sold right in the store for $1. Another alternative that is provided by the Co-op is to use the recyclable paper bags for bulk items and then transfer the food into the proper container when you get home. You can find reusable drawstring Produce Bags for sale in the Produce Department, and at the registers.
And then there is the checkout – we should ALL be using re-usable grocery bags or cartons to avoid taking paper bags to further reduce our waste footprint – there is a cost to recycling those bags. You can bring in any reusable bag that works for you, and there are a variety of types of reusable bags available for purchase near the Co-op registers, too. If you happen to forget your bags, we try to keep a stock of sturdy cardboard boxes available as paper bag alternatives.
Do you have a tip to share for how to remember to bring your grocery bags? And have you tried the reusable to go containers at the salad and hot bar? What do you think? We'd love to hear from you.
As fellow board member R.J. Adler suggested in his Summer 2018 newsletter article, try to avoid buying or using any plastic the next time you shop – "It's an eye-opening experience."
=======
In other Board of Directors news, various board members are attending three workshops this fall. The workshops include a Peer Network Training hosted by The Neighboring Food Co-op Association at Upper Valley Food Coop in White River Junction that took place September 15. At that workshop, Coops met to share information to support each other. On October 13 the NCFA will be co-hosting a "Co-op Café" with CDS (Cooperative Development Services) entitled "Expanding the Vision of 'We'". And then in November, a networking event is planned to address unconscious bias. If anyone is interested in what we have learned at these workshops, please send an email to board@middlebury.coop and we'll be happy to share!
Ann LaFiandra is a Middlebury Natural Foods Co-op Board Member