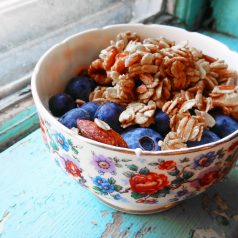 Nutty Steph's is celebrating recent improvements that make their classic local product vastly more desirable for "Localvores". The change came from a partnership with woman-owned milling company, Maine Grains, as the source for the oats used in Nutty Steph's Vermont Granola. Simultaneously, the last two years brought major improvements to the Nutty Steph's baking process, which allows the company to pay more for the oats while not raising the price of their Vermont Granola. "We are so proud of our granola now that we want everyone to try it." says company founder, Jaquelyn Fernandez Rieke.
Nutty Steph's Vermont Granola had always been made with Vermont maple syrup, making it 28% local, but with the Maine Grains oats, the granola is now made with 78% local ingredients. "During our first 12 years, I struggled about trucking in oats from so far away, sometimes as far as Vancouver. It broke my heart, really, that we had no feasible source for local oats. I am soaring about the changes. To have finally found a local company, woman-owned, milling an organically grown oat is one thing, but it's a whole other thing to afford the more expensive oat without passing on the cost to our customers. We relocated to a new bakery and can make more granola at a lower cost."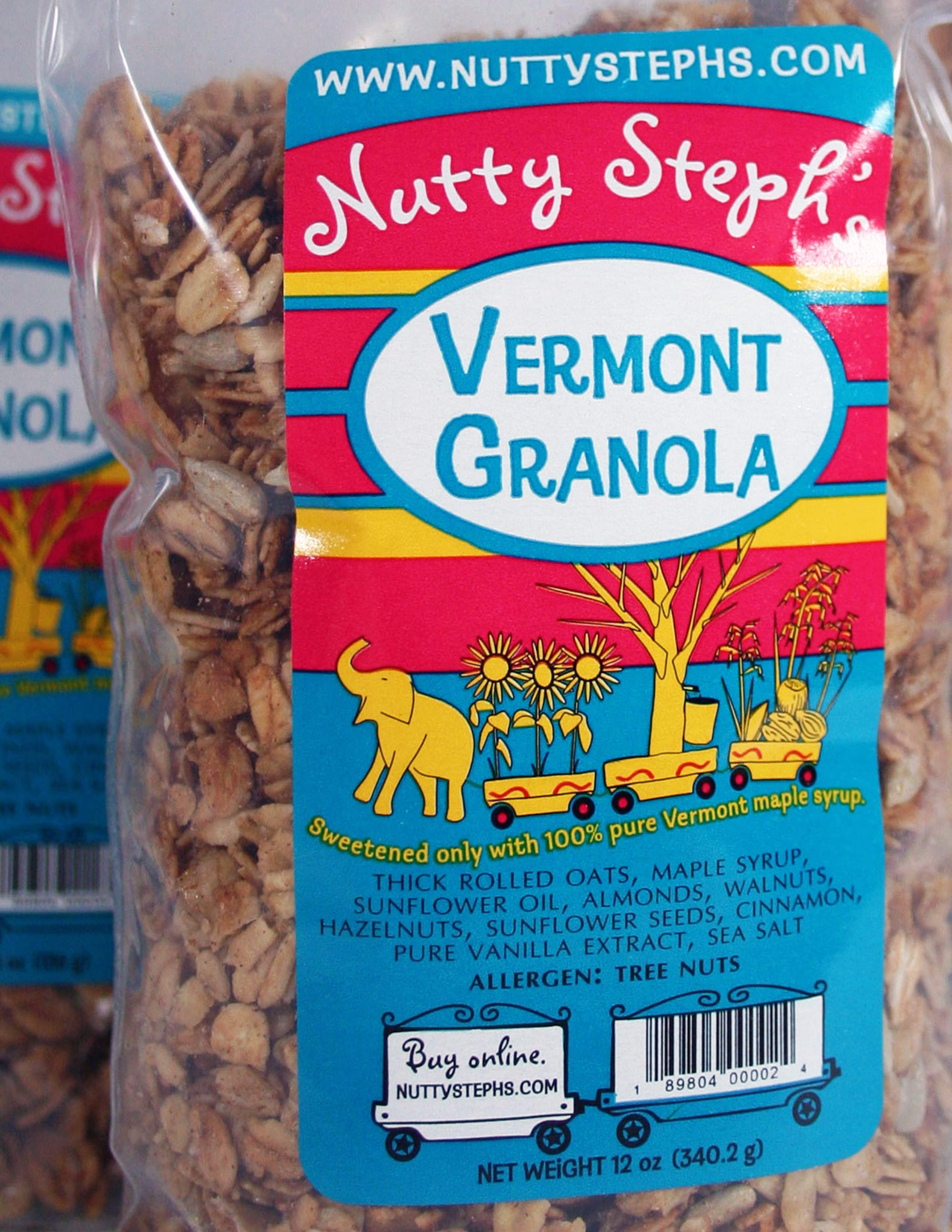 Maine Grains mills the oats to order for Nutty Steph's and ships them fresh because of a delicate constitution that results from their traditional milling process. Dry-rolled oats are rare in today's marketplace because big agricultural markets necessitate they be warehoused for as much as two years before getting eaten.  Nutty Steph's baker Amanda Copeland explains the "our palettes from Maine Grain are practically alive. The consistency varies a lot from week to week as we go through a certain batch of oats. We adjust the bake according to the mood of the oats." The reward for this tedious attention to the "living oat" is a richer texture. Plus, compared to their storage-warrior steam-rolled counterpart, the dry-rolled oats are nutritionally superior.
Localvore is a food movement started in 2005 by three women in the San Francisco Bay area seeking to promote the combustion of local foods. Wikipedia defines it as eating foods "grown in the same geographic region, in order to develop more self-reliant and resilient food networks; improve local economies; or to have an impact on the health, environment, community, or society."
Nutty Steph's has made impeccable granola and chocolate since 2003, selling directly to eaters, co-ops and natural & independent grocers. The company works to cultivate community togetherness and innovate the workplace-as-human-relational-field of consciousness. Their shop, located at 961C US Route 2 in Middlesex, VT is open daily with free chocolate & granola tastings. It's part of the Middleground business community, also home to The Hive Craft Collective, Mud Pottery Studio & Gallery, and Red Hen Baking Company, making it a particularly fun place to stop and browse. Be sure to swing by on your next trip through Middlesex and, in the meantime, you can find their granola and chocolate here at the Co-op!