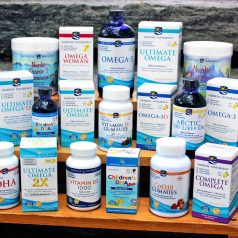 Looking to reinvigorate your wellness routine? We invite you to check out Nordic Naturals, who is enjoying the glow of the Member Deals Spotlight this week! From August 17th – 23rd, Co-op member-owners can enjoy a 20% discount on all Nordic Naturals products! Read on to learn more about this company's origin and commitment to sustainability:

The Nordic Naturals story begins back in 1995 when Norwegian-born founder and CEO Joar Opheim moved to California to complete his MBA. Opheim noticed that the pure omega-rich cod liver oil that Norwegians rely on to stay healthy was nowhere to be found here in the U.S. Low-concentration fish oil with an awful taste was all the market had to offer, but Opheim knew he could make a difference. With each trip home, he would fill an extra suitcase with bottles of his favorite fish oil to share with friends in the U.S. This deep desire to share the power of pure, fresh omega-3 nutrients inspired Opheim to found Nordic Naturals and still drives the company today.
Nordic Natural's mission states simply that "great things happen when values meet action." They're committed to delivering the world's safest, most effective nutrients essential to health. It's what motivates them to ensure that all of their products are research supported, expertly formulated, rigorously tested, proven effective, and best of all, great-tasting.
The team at Nordic Naturals believes that the future is about positive partnerships and sustainable best practices. They aspire to do right by the people and places that are part of their success, so giving back is a high priority. They do so by supporting local and global organizations that are making a positive impact now and for generations to come. Click here to view a list of the organizations they support.
All their fish oils are Friend of the Sea (FOS) Certified to guarantee that the fish used in their products comes from healthy fisheries. They're sourced in line with strict standards for fishing methods, by-catch reduction, and social accountability.

Their LEED Gold-certified headquarters in California helps minimize the company's impact on the earth and provides a comfortable, healthy workplace for their employees. Across the world, their plant in Arctic Norway is powered entirely by unused fats from the fish oil production process, a savings of resources in service to the planet.
To learn more about the importance of high-quality marine-sourced omega-3's click here.