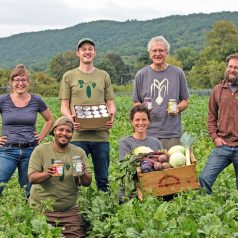 Our Member Deals Spotlight shines brightly this week on a worker-owned cooperative aiming to change the food system by making pickles – Real Pickles! All of their probiotic-packed products are 20% off for member-owners this week! Read on to learn more about what makes this co-op beyond worthy of the spotlight:

The Real Pickles story begins in 1999 when Dan Rosenberg attended a traditional pickling workshop during a NOFA conference. Armed with this new skill, he began pickling locally-grown vegetables as a way to preserve the harvest so that he could continue eating locally during the winter months. He was further inspired by the work of Dr. Weston A. Price, a researcher who traveled the world in the 1920s and 30s studying the diets of indigenous peoples, finding that those eating traditional diets including fermented foods enjoyed a high level of health completely unknown in industrialized societies.
After two years of experimenting with recipes and honing the craft, Dan was ready to launch the business. From the very beginning, he prioritized local/regional food and organic agriculture. Real Pickles would buy its organic vegetables only from Northeast organic farms and sell its products only within the Northeast. A year later, the business began operating out of the Western Massachusetts Food Processing Center in Greenfield, MA, a business incubator kitchen created to boost the local agricultural economy by providing a venue for making value-added foods with local farm ingredients. Dan was soon joined by Addie Rose Holland and the business began to grow.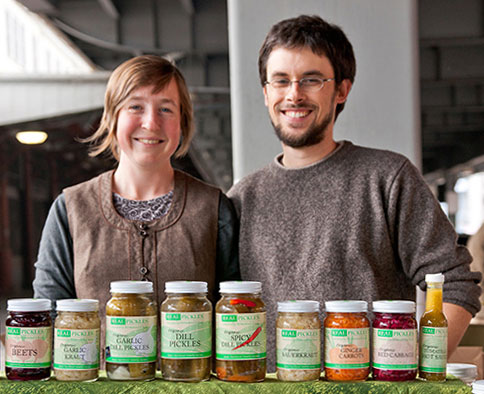 By 2009, Real Pickles had outgrown the incubator kitchen and was ready to settle into their own home. They purchased a century-old industrial building in Greenfield, MA and transformed it into a solar-powered, energy-efficient, organic pickling facility. The move allowed for a significant expansion, tripling their purchases from local farms in the years to follow. Their success demonstrates that there is a real and growing demand for raw, fermented vegetables and that consumers value a business as deeply committed to social responsibility.
In 2013, with a goal of preserving their social mission for the long term and with the help of a successful community investment campaign, Real Pickles took the exciting step of transitioning their business to a worker co-operative. They are proud to join the ranks of other co-operatives that are supporting local ownership, workplace democracy, and contributing to the co-operative economy!
Want to learn more about the farmers in our region that supply Real Pickles with fresh, organic veggies? Click HERE!
To learn more about the health benefits of fermented foods, click HERE.