Pan Bagnat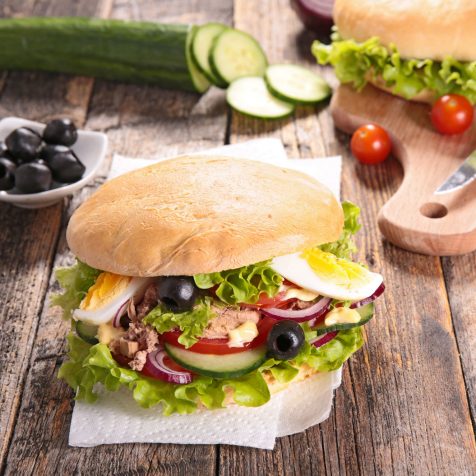 Description
Nobody likes a soggy sandwich, so when we came across this recipe for a tuna sandwich that actually improves as it sits in your lunchbox or picnic basket, we were excited to give it a try. According to recipe creator Melissa Clark, "the longer it sits (up to 24 hours), the better it gets. The flavors marry, the oil and tomato juices mingle, the anchovies dissolve into the bread and all of it coalesces into a sophisticated whole that stays intact when you bite in." Clark also notes that pan bagnats can be a catchall for whatever vegetables are on hand: crisp hot and sweet peppers, fennel, cucumber, string beans, peas, and scallions all make excellent additions. You'll find many of the ingredients featured in our back-to-school-themed Weekly Sale from August 19th – 25th, so it's a perfect time to give it a try!
Instructions
In a small bowl, whisk together the optional anchovies, garlic, vinegar, mustard, salt, and pepper. Slowly drizzle in oil, whisking constantly. If using a country loaf, pull out some soft interior crumb to form a cavity. If using a ciabatta, you won't need to eliminate anything. Peel and halve the cucumber lengthwise and scoop out seeds from one half. Thinly slice seedless half. Add sliced cucumber to vinaigrette and toss well.
Spread half the cucumbers on bottom of bread. Top with tomato and onion slices, then with tuna, basil, olives, and egg slices. Top egg with remaining cucumbers and vinaigrette. Cover with second bread half and firmly press sandwich together. Wrap sandwich tightly in foil, waxed paper, Bee's Wrap, or plastic wrap, then place in a plastic bag. Put sandwich under a weight such as a cast-iron frying pan topped with a filled kettle. Weight sandwich for 7 to 10 minutes, then flip and weight it for another 7 to 10 minutes. Unwrap, slice, and serve immediately, or keep it wrapped for up to 8 hours before serving.