Mediterranean Pearled Couscous Salad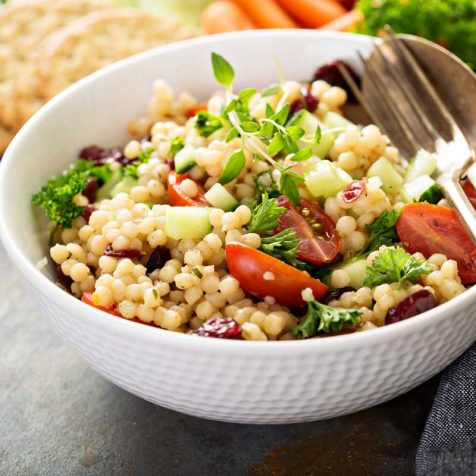 Description
This versatile summer salad makes excellent use of the abundance of fresh cucumbers, cherry tomatoes, and herbs coming out of local farms and gardens this time of year. It can be prepared in advance, served warm or chilled, and results in a perfectly healthy lunch, light supper, or side dish. It's also very flexible in that you can substitute just about any veggies and herbs that you happen to have on hand, so consider this a general template and feel free to get creative! You'll find bulk organic pearled couscous featured in the Weekly Sale from August 3rd – 9th, so it's a perfect time to give this dish a try!
Instructions
Begin by making the lemon-dill vinaigrette, combining the first 5 ingredients in a bowl. Whisk together to combine. Set aside briefly.
In a medium-sized heavy pot, heat two tablespoons of butter. Saute the couscous in the butter briefly until golden brown. Add 3 cups of boiling water and a generous sprinkling of salt. Return to a boil, then reduce heat to a simmer, cover, and cook until tender, about 15 minutes. Drain off any remaining water in a colander. Set aside in a bowl to cool.
In a large mixing bowl, combine the remaining ingredients minus the basil and mozzarella. Then add the couscous and the basil and mix together gently. Give the lemon-dill vinaigrette a quick whisk and add it to the couscous salad. Mix again to combine. Test and adjust salt, if needed. Finally, mix in the cheese. Garnish with more fresh basil. Enjoy at room temp or chill and serve.