Maple Candied Pecans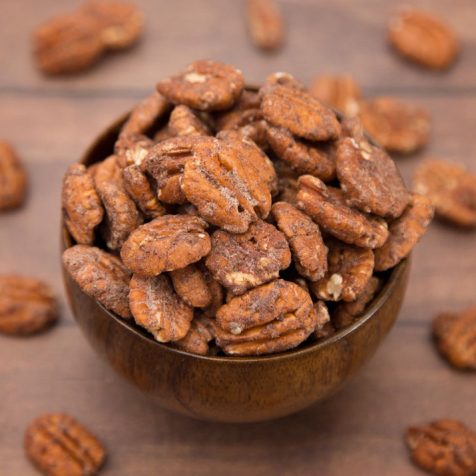 Description
These four-ingredient maple candied pecans are super simple to make and they might just become your new favorite snack. They pack well for your summer adventures and make a great edible gift. You'll find bulk pecans featured in our Weekly Sale from July 27th – August 2nd, so it's a perfect time to give them a try. If you can resist enjoying them all right from the cookie sheet, you may want to add them as a topping to the ice cream cake that we're also featuring on the blog and at the Weekly Sale display this week!
Instructions
Combine all ingredients in a sauté pan. Use a spatula or a spoon to toss all of the ingredients together until the pecans are evenly coated and all of the spices have dissolved into the maple syrup.
Bring the mixture to a simmer. Cook on medium heat until the maple syrup comes to a low simmer. (We're looking for small, gentle bubbles here — not a vigorous boil.)
Continue simmering until the liquid has evaporated, then reduce heat to low (or whatever temperature works on your stovetop to maintain a very low simmer). Continue simmering the mixture for about 20 minutes — stirring often — until the liquid in the maple syrup has evaporated and its sugars have crystallized. Resist the urge to crank up the heat to speed up the process, as the pecans will burn easily.
Immediately pour the candied pecans out onto a flat surface (like a cookie sheet) covered with parchment paper. Use your spatula to break apart the clumps, then let them cool until they reach room temperature.
Dive for a taste immediately, or store the candied pecans in an airtight container for up to 2 weeks.