Maple Popcorn Balls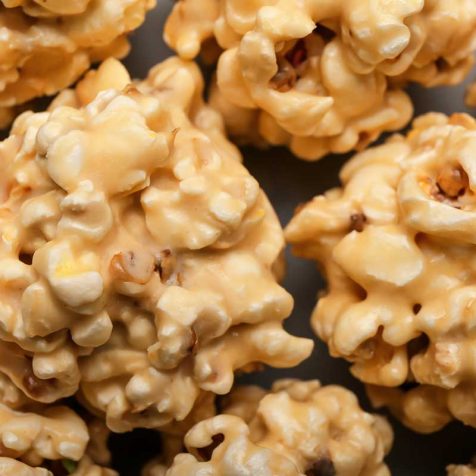 Description
Halloween is a time when we're typically bombarded with mountains of sugary, corn-syrupy treats being hauled around by all the little ghouls and goblins, which is why we're loving this good old-fashioned alternative featuring healthy whole-grain popcorn and pure Vermont maple syrup. You'll find local, organic Hurricane Flats popcorn featured in our Halloween Weekly Sale from October 26th – November 1st, so it's a perfect time to give these wholesome treats a try!
Instructions
Line baking sheet with parchment and preheat oven to 250F. Coat a medium-sized heavy-bottomed pot with olive oil spray and place over medium-high heat. To the oiled pot, add 1/3 C popping corn and cover with a lid. Shake the pot every minute or so to rotate the kernels. Once they begin to pop, continue shaking the pot occasionally to prevent burning. Once most of the kernels have popped, remove pot from heat. In another pot, place butter and 3/4 C of the maple syrup over medium-low. Simmer 8-10 minutes, until it reaches "soft ball" stage (it will stiffen when a drop of the syrup is added to a cup of cold water). Pour hot syrup over the popcorn and quickly stir to coat. Spread onto the parchment, removing any unpopped kernels, sprinkle with salt, and bake at 250F for 10 minutes. Meanwhile, heat remaining 1/2 C maple syrup in your pot, simmering for 5-8 minutes until it reaches "soft ball" stage. Pull popcorn from oven and pour hot maple syrup over top, stirring to coat. Working quickly, coat hands with olive oil spray and form 5-6 balls, placing balls onto a fresh sheet of parchment. Allow to cool and enjoy!
Note: if you prefer a more visual demonstration, check out this YouTube video.