Maple Candied Sweet Potatoes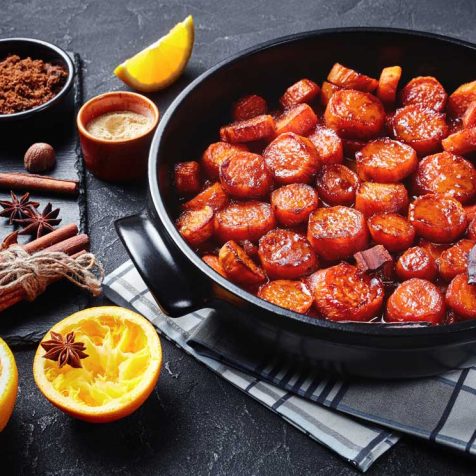 Description
Looking for a simple, crowd-pleasing sweet potato side dish for your Thanksgiving spread? Look no further! You'll find local, organic sweet potatoes from Laughing Child Farm featured in our Weekly Sale from November 17th – 23rd, just in time for the big feast!
Instructions
Preheat oven to 375. Wash the sweet potatoes (peels on) and prick them all over with a fork. Wrap in foil and bake in a 375-degree oven until very tender. This can take anywhere from 50 minutes to 1½ hours, depending upon the girth of the potato. Thinner ones cook more quickly. Cool. Peel just before using.
Increase oven temperature to 400 degrees. In a small pot, combine syrup, cider, butter, cinnamon, cloves, and orange zest. Bring to a boil, then reduce heat and simmer until somewhat thickened, about 15 minutes. Pour syrup over sliced sweet potatoes and bake, uncovered, until bubbling and brown, 25 to 40 minutes.