Herbed Mashed Potatoes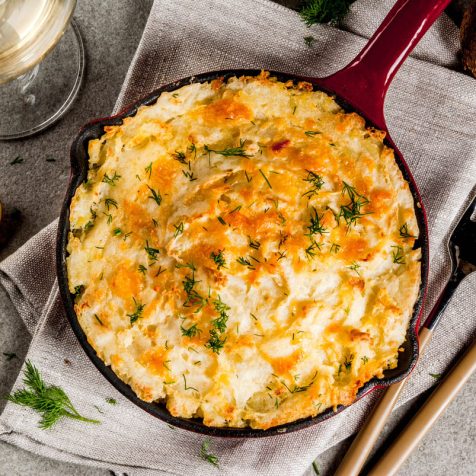 Description
Making mashed potatoes can be as simple as whipping together two or three ingredients, but for Thanksgiving, it feels right to give your spuds some special treatment. This herbed mashed potato recipe does just that, by first steeping milk and cream with savory herbs and garlic to bring this classic recipe to new heights. You'll find local, organic gold potatoes in our weekly sale from November 10th – 16th, giving you time to taste-test this recipe in advance of your holiday feast.
Instructions
In a medium saucepan, combine the cream, milk, and the 2 sticks of butter with the rosemary, sage, and garlic and bring just to a simmer. Remove from the heat and let steep for 15 minutes, then discard the rosemary, sage, and garlic. Meanwhile, in a large pot, cover the potatoes with water and bring to a boil. Add a generous pinch of salt and simmer over moderate heat until tender, about 20 minutes. Drain well, then pass the potatoes through a ricer (or mash/whip them thoroughly). Fold in the cream mixture and season generously with salt and pepper. Light the broiler and position the rack 8 inches from the heat. Scrape the potatoes into a 12-inch round flameproof pan or baking dish (2 inches deep) and, using a spoon, decoratively swirl the top. Gently brush with melted butter. Broil for about 8 minutes, until the top is browned in spots. Serve hot and sprinkle with additional fresh herbs, if desired.
This recipe can be prepared in advance and stored in the refrigerator, saving the broiling step until the day you intend to serve it. If you choose this option, reheat the potatoes gently on the stovetop before transferring into the baking dish and broiling.