Greek Antipasto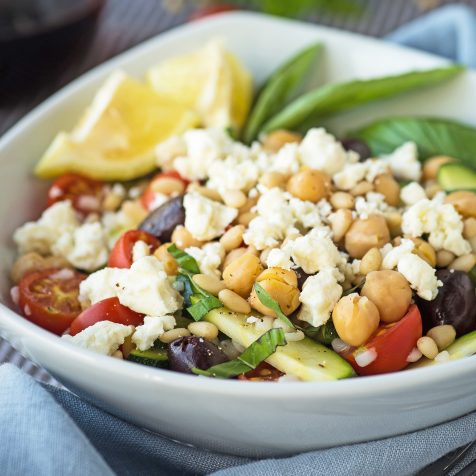 Description
Top four reasons you'll love this simple summer salad:
It will allow you to celebrate and enjoy many local ingredients –  cucumbers, lettuce, cherry tomatoes, garlic, fresh basil & oregano are all in season right now.
It's budget-friendly – Many of the ingredients are featured in our weekly sale this week.
It's a perfect meal for a hot summer day – Who wants to fire up the oven on a hot day?  The garbanzo beans, olives, artichokes, and feta lend a satiating substance that won't leave you feeling like you only had salad for dinner. Top it with leftover sliced chicken or steak to make it even more substantial.
It's quick – 10 minutes is all you'll need to throw together this beautiful meal.
Instructions
Toss lettuce and basil leaves together.  Top the greens with garbanzo beans, artichokes, feta, tomatoes, cucumber, and olives. Combine remaining ingredients in a blender or food processor and blend until well combined. Drizzle dressing over the salad and serve.