Fassoulyeh b'Chuderah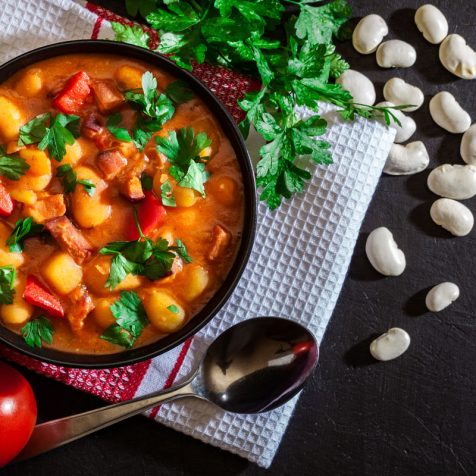 Description
The fesitval of Purim, celebrated by Jewish cultures across the globe from the evening of Monday, March 6th through the evening of Tuesday, March 7th, is a joyful holiday with many food-related traditions, including giving gifts of food and drink to family and friends and eating triangular-shaped hamantaschen. But beyond these better-known customs lies one with a lower profile, the eating of beans. This warm, fragrant bean recipe, adapted from Jennifer Abadi's A Fistful of Lentils, falls somewhere between a soup and a stew. It's vegetarian, deeply satisfying, and draws on common pantry staples — many of which are featured in our Weekly Sale from March 2nd – 8th!
Instructions
Cover the beans with cold water and remove any rocks, dirt, or other debris from the surface of the water, allowing them to soak for 8-24 hours. Drain water and transfer to a 4-quart saucepan. Cover with water, bring to a boil, reduce heat, and simmer vigorously until beans are just cooked but not soft, about 45 minutes. Drain water and reserve beans.
Heat the oil in a heavy soup pot over medium-high heat. Cook the onions, stirring, until translucent, about 4-5 minutes. Add garlic and cook for 1 additional minute; do not burn. Add the tomato paste and cook, stirring constantly, about 2 minutes. Add diced tomatoes, water/broth, brown sugar, cinnamon, salt, and pepper, and stir to combine. Return to a boil, then reduce heat, cover, and simmer over medium-low heat until beans are very soft and liquid has thickened considerably, about 1 1/2-2 hours.
Serve in bowls over basmati rice.