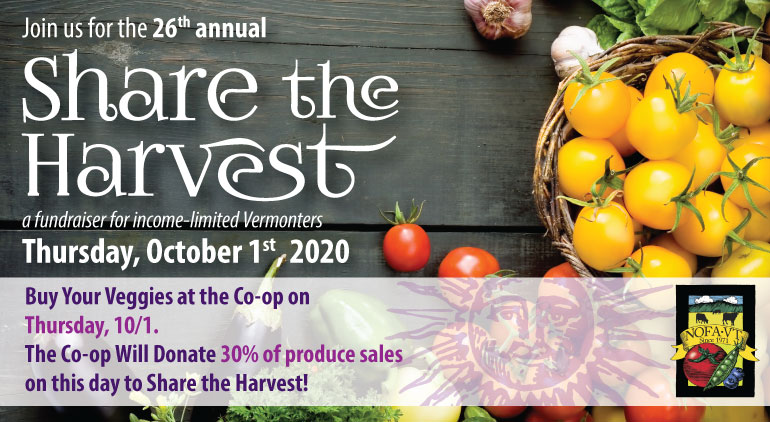 Middlebury Natural Food Co-op
9 Washington St., Middlebury, VT 05753
Fundraiser: Buy Your Produce on Thursday, 10/1 – The Co-op Will Donate 30% of Produce Sales to Share the Harvest!
On Thursday, October 1st, 2020 your Co-op will donate 30% of all Produce Sales to Northeast Organic Farming Association of Vermont's Farm Share Program. What's this all about? Read on!
Share the Harvest is a win-win scenario! Here's how it works:
Eat out or shop at generous participating businesses during the month of October
Participating businesses donate $ to NOFA-VT's Farm Share Program
The $ goes to farmers to help subsidize limited income participation in their local CSA
Folks (who might not otherwise be able to afford it) can join their local CSA at reduced cost and receive delicious, healthy food!
DONATIONS
Donations to the Farm Share Program are always welcomed and are accepted year-round. If you would like to contribute to the Farm Share Program, you can do so online or download this form (pdf) to make a donation by mail.
NOFA Vermont's Farm Share Program is a great way that limited-income Vermonters can afford to purchase CSA (community supported agriculture) shares of fresh produce from their local farmers. Donations to the Farm Share Program go into a fund that helps subsidize CSA shares to needy Vermonters. NOFA Vermont believes that all Vermonters should be able to eat local organic food, regardless of their income level, while also making sure farmers get a good wage for their hard work.
Demand for Farm Share Program support is significant. The Farm Share Program is funded by individual donations and by the annual Share the Harvest fundraiser.
If you know of a restaurant, brewery, co-op, or food store who would like to participate in Share the Harvest 2020 or partner with the Farm Share Program, please contact Becca Weiss at becca@nofavt.org or 802-434-7178 or Emmet Moseley at emmet@nofavt.org or 802-434-7162.